Josh Earnest: Media Became 'Arms of Russian Intelligence' By Reporting on Hacked DNC Emails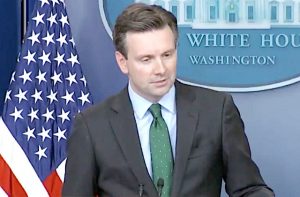 White House press secretary Josh Earnest approvingly cited a New York Times piece Wednesday that characterized media outlets that reported on the contents of the hacked Democratic National Committee emails as "de facto instruments of Russian intelligence."
The Times' Gardiner Harris asked Earnest why it took until October for the White House to announce they believed the DNC hack was carried out by Russia when the hack occurred in April. "That delay covered most of the presidential election, causing months of coverage of the leaks that were not probably informed by a formal government statement that this was an act of foreign espionage," he argued.
Earnest noted that the intelligence community reached in its conclusion independent from the White House and worked at its own speed. Had the White House made efforts to speed up the review, he argued, it would've looked as though they were intervening in the election.
But Earnest said he didn't buy the notion that the media would have reacted differently if they knew Russia was behind the hack. "There's no denying that those materials were stolen property, there was no denial on the part of the U.S. government that the DNC had not been hacked. So even as news organizations were reporting on this information, they were reporting on information that they knew had been stolen," he tut-tutted.
"Those are editorial decisions that are made by independent news organizations," Earnest said. "But even the excellent report that was included in your newspaper today about this incident makes clear that news organizations in the United States essentially became the arms of Russian intelligence."
Watch above, via the White House.
[Image via screengrab]
—
>>Follow Alex Griswold (@HashtagGriswold) on Twitter
Have a tip we should know? tips@mediaite.com