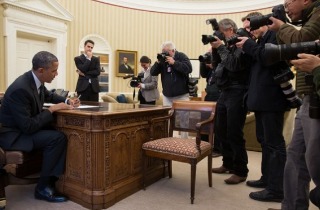 The Obama White House hasn't exactly been the most open or transparent, and this week a few dozen journalism groups––among them the Society of Professional Journalists, the Associated Collegiate Press, the Center for Media and Democracy, and the Poynter Institute––co-signed a letter to President Obama decrying his administration's political suppression of the news and lack of anything resembling transparency.
In the letter, these journalism groups ask Obama to follow up to one of his earliest presidential promises and become more transparent. Because right now, they say, the White House is continuing to frustrate journalists with its "politically driven suppression of news and information about federal agencies."
The letter claims that it has become increasingly harder for members of the press to talk to individuals who work at federal agencies, because "contact is often blocked completely" and the level of anonymity that has to go into setting terms with even a spokesperson is absurd.
And this is a clear and obvious issue of media censorship.
Some argue that controlling media access is needed to ensure information going out is correct. But when journalists cannot interview agency staff, or can only do so under surveillance, it undermines public understanding of, and trust in, government. This is not a "press vs. government" issue. This is about fostering a strong democracy where people have the information they need to self-govern and trust in its governmental institutions.
The letter lists example after example of instances where outlets like Reuters and The New York Times were ignored when they made requests for comment from federal agencies. It concludes with a plea to President Obama to issue changes to these policies so that government can be more transparent and accountable to the people it serves.
You can read the full letter here.
[h/t POLITICO]
[image via Pete Souza]
— —
Follow Josh Feldman on Twitter: @feldmaniac
Have a tip we should know? [email protected]
Josh Feldman - Senior Editor