Journalists Fight Back At Implication They Were 'Colluding' With Obama Over Iran Deal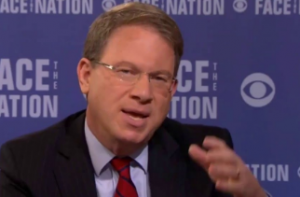 Recently, the New York Times Magazine released quite the profile of President Barack Obama's national security advisor Ben Rhodes. The piece essentially said that Rhodes created a simple, false narrative to sell the idea of the Iran Deal to Americans. Amazingly, that was linked to his former aspirations of becoming a novelist. What a world.
The Atlantic's Jeffrey Goldberg and Al-Monitor's Laura Rozen — both long-time foreign affairs reporters — were named in the piece, which featured heavy implications that young, inexperienced journalists were easy to feed the narrative to. Here is the passage:
As [Director of Digital Response for the White House Office of Digital Strategy Tanya Somanader] explained how the process worked, I was struck by how naïve the assumption of a "state of nature" must seem in an information environment that is mediated less and less by experienced editors and reporters with any real prior knowledge of the subjects they write about. "People construct their own sense of source and credibility now," she said. "They elect who they're going to believe." For those in need of more traditional-seeming forms of validation, handpicked Beltway insiders like Jeffrey Goldberg of The Atlantic and Laura Rozen of Al-Monitor helped retail the administration's narrative. "Laura Rozen was my RSS feed," Somanader offered. "She would just find everything and retweet it."
Needless to say, they have not reacted positively to that.
Goldberg told the Huffington Post, "This is an unsupported, defamatory allegation that somehow slipped into The New York Times Magazine by a guy, it should be pointed out, who has had a grudge against me for several years."
Rozen wants a correction in the piece and an apology. She and Goldberg both told HuffPo that no one had reached out to them prior to the piece's publication to ask for their input or objection.
Rozen also defended her Twitter account, saying that it has become a destination for people who are interested in Iran and its nuclear power, which is why she retweets so much. She retweeted these:
Journos who relied on @lrozen for thoro coverage and many retweets are angry at NYTmag's clubby sneers. The old canard: thoro is aggressive.

— Dave Wagner (@bluecat720) May 8, 2016
Thing is, I remember you tweeting from LOTS of sources. Not all pro-Iran deal. Would Samuels want u 2 ignore White House info? @lrozen

— Robin Messing (@RobinSMessing) May 8, 2016
Here is what Times Magazine editor-in-chief Jake Silverstein said by way of both accepting and rejecting blame for the characterization of the two journalists:
As I've told Goldberg and Rozen, we should have asked them for a response, and I regret that we did not do so. As I also expressed to them, when David used the phrase 'helped retail' he did not mean to imply that Goldberg or Rozen were colluding with the administration. Rather, he meant that certain people within the White House were retailing their talking points, and that they saw Goldberg and Rozen as helpful in doing so. David's extensive reporting supports this assertion. It is also important to note that David's piece is about a system for crafting and disseminating policy narratives, and because of his remarkable access, he was able to describe that system from the perspective of the people who operate it.
This is surely not the last we will hear on the topic of Rhodes and his profile, but at least for Goldberg, being (perceived to be) misrepresented in the press is sort of old hat now.
[image of Goldberg via screengrab]
For more from Lindsey, go to Twitter or Facebook!
Have a tip we should know? tips@mediaite.com