Kanye Shows Up 90 Minutes Late to Concert, Plays Three Songs, and Ditches After Lengthy Rant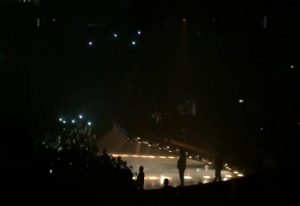 A Saturday night concert in Sacramento, California, came to an abrupt end when Kanye West launched into a lengthy tirade that covered subjects as varied as Hillary Clinton, Donald Trump, Beyonce and Jay Z apparently wanting to kill him.
West already made headlines last week over another concert that included a political rant where he confessed that he didn't actually vote in the presidential election, but if he had, he would have voted for Trump. He also chided black people for talking about racism too much at that show.
On Saturday, Kanye showed up to the Golden 1 Center 90 minutes late. After performing three songs, West stopped to go off on a bunch of stuff that was apparently upsetting him.
First off, he wanted it to be known that Beyonce — an artist who he has vehemently defended and lauded over the years, including his infamous interruption of Talyor Swift at the 2009 MTV VMAs — wouldn't perform on a show if she wasn't promised an award. He also claimed that Beyonce's husband, Jay Z, had "killers" and he didn't want them coming at his head, asking Jay Z to call him.
Kanye West exposes Beyoncé and Jay Z at his concert pic.twitter.com/mTo9Q60h5Z

— EXPOSED (@Exposing_celebz) November 20, 2016
After continuing on, he decided to end the concert by first informing the media to get ready with their "passive aggressive LeBron James racist comments" and then dropped the mic, saying the show was over.
Kanye West tells the crowd the show is over after performing 3 songs. #SaintPabloTour #SaintPablo so much disbelief.. ? pic.twitter.com/skre0y678Z

— Daniel (@Danielll309) November 20, 2016
Obviously, the audience was far from pleased about the concert ending after just three songs and a late start.
Crowd chanting "F*** you, Kanye" after he showed up an hour & a half late, sang 3 songs, ranted, ended show. #SaintPabloTour pic.twitter.com/cQ7V6pox8R

— Frances Wang (@ABC10Frances) November 20, 2016
According to ABC 10's Frances Wang, who was on the scene, the crowd was disappointed, shocked, angry and wanted their money back.
Watch clips of Kanye's rant above.
UPDATE 9:10 PM ET: Kanye West has apparently canceled his concert tonight in Los Angeles.
.@KanyeWest JUST cancelled his makeup L.A. concert that was scheduled for tonight because… Kanye! Details HERE: https://t.co/tdbGXEiwh0 pic.twitter.com/YlVVmtNVDH

— Perez Hilton (@PerezHilton) November 21, 2016
[image via screengrab]
–
Follow Justin Baragona on Twitter: @justinbaragona
Have a tip we should know? tips@mediaite.com