'You Have to Trick People Into Reading the News': Pro-Trump Writers Reveal Secrets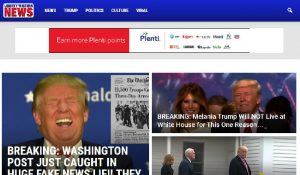 In an eye-opening profile in the Washington Post, two writers who run a relatively new website dedicated to pro-Trump news provided some revealing insight into why they do what they do and what has made them successful in such a short amount of time.
Paris Wade and Ben Goldman run the site LibertyWritersNews.com, a 'news' site that in only six months has collected 805,000 Facebook followers and has earned the two men tens of thousands of dollars in advertising revenue in that period of time.
Both men are in their twenties and were unemployed restaurant workers when they decided to launch the site. They realized it was a potentially profitable endeavor when they started writing stories for an alt-right website whose owner was a client of their failed advertising business. Being paid per click, Wade was able to earn $120 for an article about North Korea experimenting on humans that was accompanied by a provocative image.
"You have to trick people into reading the news," Wade told the Post.
They discussed the highly overstated and misleading titles that they use to attract readers, using ones that fearmonger, inflame racial tensions, push conspiracy theories or just plain exaggerate. Claiming that all successful journalism uses "shock value," they noted that there newspapers used to be in constant competition to see who could "write the craziest s—."
At the same end, they sometimes aspire to something more than clickbait, but realize nobody would care.
There are times when Wade wonders what it would be like to write an article he truly believes in. "In a perfect world," he says, it would have nuance and balance and long paragraphs and take longer than 10 minutes to compose. It would make people think. But he never writes it, he says, because no one would click on it, so what would be the point?

Instead, as 4,000 people are on the website one night, Wade and Goldman keep writing and feeding, writing and feeding.
There has been quite a bit of attention and reflection post-election over the role of hyperpartisan and fake news sites in helping to get Donald Trump elected. Mediaite founder and ABC legal analyst Dan Abrams highlighted how Google's search engine was aiding fake news sites in promoting their inaccurate information. CNN's Brian Stelter has dedicated much of his program Reliable Sources to the topic and one notable fake news journalist feels he may have some responsibility for Trump's victory.
Meanwhile, after the Post published its story on the two Sunday, Liberty Writers News responded by posting an attack piece on the paper and saying that their profile of the two writers was a fraud.
You can read the entire Washington Post piece here.
[image via screengrab]
–
Follow Justin Baragona on Twitter: @justinbaragona
Have a tip we should know? tips@mediaite.com