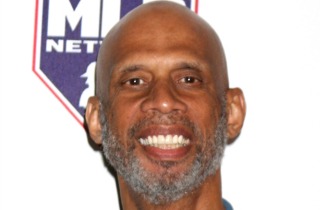 Yet another NBA franchise owner is in some hot water for racially questionable remarks. Atlanta Hawks co-owner Bruce Levenson sent out emails expressing concerns about white fans being alienated by the preponderance of black culture, hip-hop, etc. at the games. He wrote, "My theory is that the black crowd scared away the whites and there are simply not enough affluent black fans to build a significant season ticket base."
Levenson apologized and said he'll be selling his share in the team. However, he does have one defender in former NBA star Kareem Abdul-Jabbar, who wrote an op-ed for Time about the pitchforks and torches that quickly encircled Levenson.
And because everyone else is drawing the comparison, Abdul-Jabbar makes it very clear that Levenson "is no Donald Sterling." He argues that far from expressing any racist views, Levenson's just expressing legitimate business concerns:
Seems reasonable to ask those questions. If his arena was filled mostly with whites and he wanted to attract blacks, wouldn't he be asking how they could de-emphasize white culture and bias toward white contestants and cheerleaders? Don't you think every corporation in America that is trying to attract a more diverse customer base is discussing how to feature more blacks or Asians or Latinos in their TV ads?
Abdul-Jabbar admits some of Levenson's comments made him "cringe," like the line about whites being "scared off" by the overwhelmingly black crowd. But on the whole, he doesn't see anything wrong with a businessman "trying to figure out a way to change what he thought was the white perception in Atlanta so he could sell more tickets."
You can read his full op-ed here.
[image via Helga Esteb/Shutterstock]
— —
Follow Josh Feldman on Twitter: @feldmaniac
Have a tip we should know? tips@mediaite.com
Josh Feldman - Senior Editor