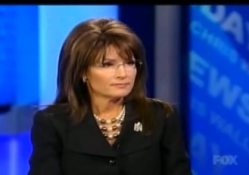 KTVA, the CBS affiliate (Update: CBS clarifies that KTVA is a non-CBS owned affiliate: "KTVA News is owned by the Alaska Broadcasting Co., not CBS. No CBS staffers were involved and CBS has no knowledge of and no comment on these allegations.") whose reporters were recorded on an answering machine speculating about finding a child molester at a Joe Miller rally, has responded to Sarah Palin's claims that the tape is proof they are "corrupt bastards."
KTVA General Manager Jerry Bever has released a statement to Politico and says that while "the recording is real, the allegations are untrue."
Bever went on:
"The perception that this garbled, out of context recording may leave is unfortunate, but to allege that our staff was discussing or planning to create or fabricate stories regarding candidate Miller is absurd. The complete conversation was about what others might be able to do to cause disruption within the Miller campaign, not what KTVA could do."
I think it's fair to say that without an entire recording of the discussion (which may or may not exist) it will be hard to assuage Palin et al. with this statement. Media Matters, meanwhile, seems to think a longer more revealing audio of the discussion is out there and is calling on Sarah Palin to release the entire recording.
In the meantime, Fox News Dan Springer, who is currently in Alaska, told Megyn Kelly earlier today that he and his team had gone through all of KTLA's reports on the Miller campaign looking for cases of bias and had come up with none. Megyn Kelly segment below. Bever's full statement below that.
A press release issued Saturday October 30, 2010, by the Joe Miller campaign claims that KTVA personnel, "openly discuss creating, if not fabricating, two stories about Republican nominee for U.S. Senate, Joe Miller." KTVA General Manager Jerry Bever says, "It's unfortunate that this recording has happened. It's unfortunate because it does not accurately reflect the journalistic standards of our newsroom and the garbled context will no doubt leave more questions than answers. The Miller campaign's analysis of the recording is incorrect in many material ways ranging from personnel involved in the conversation, the interpretation of conversation snippets and the reported transcript of the perceived garbled conversation."

"While the recording is real, the allegations are untrue," said Bever. "The recording was the result of a cell phone not being hung up after a call was placed to Randy DeSoto, Joe Miller campaign spokesperson, Thursday afternoon to discuss Joe Miller's appearance on that evening's newscast. That phone call was placed near the end of a coverage planning meeting in our newsroom regarding that evening's Miller rally in downtown Anchorage. The group of KTVA news personnel was reviewing potential "what-if" scenarios, discussing the likelihood of events at the rally and how KTVA might logistically disseminate any breaking news."

Bever continues, "The perception that this garbled, out of context recording may leave is unfortunate, but to allege that our staff was discussing or planning to create or fabricate stories regarding candidate Miller is absurd. The complete conversation was about what others might be able to do to cause disruption within the Miller campaign, not what KTVA could do."

While Bever would not discuss any personnel issues linked with the recording, Bever says "Have we had internal discussions about the level of professionalism we need to bring to our conversations, internally and externally? Of course we have, this is a lesson to learn from."
Have a tip we should know? tips@mediaite.com