Latest John Solomon Blockbuster Being Used to Undermine the Russia Probe is Laughable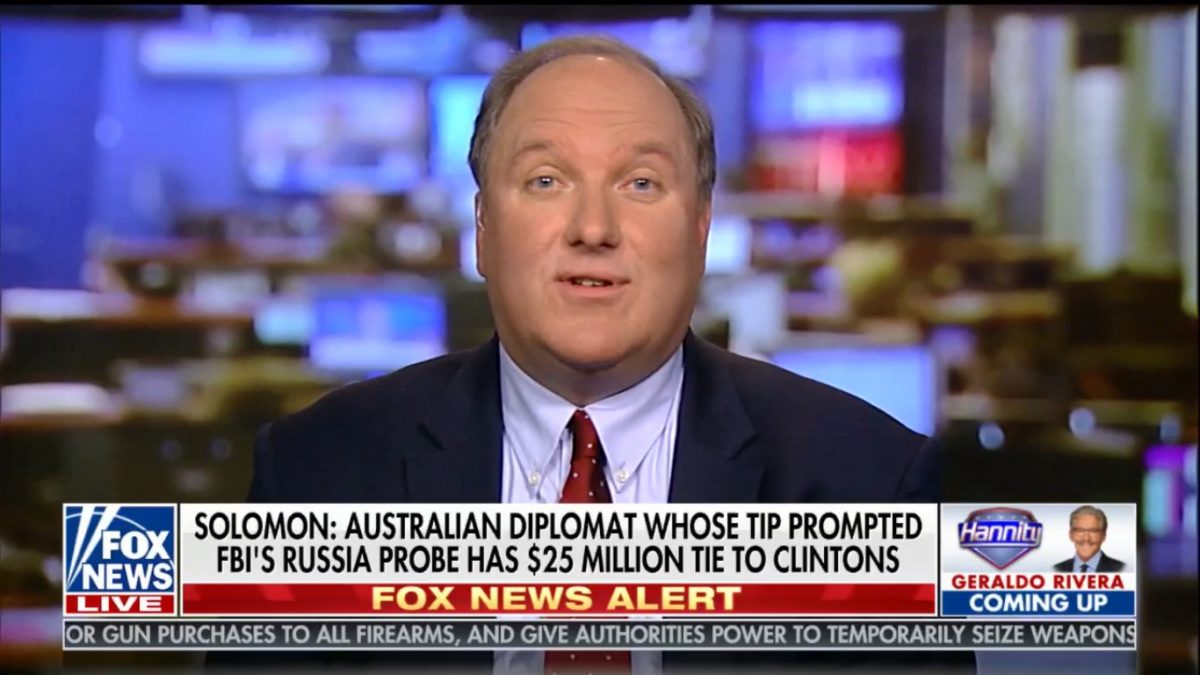 The Hill's John Solomon and Alison Spann tossed out a huge 'blockbuster' on Monday with this damning headline: "Australian diplomat whose tip prompted FBI's Russia-probe has tie to Clintons."
The report purportedly showed that former Australian Foreign Minister Alexander Downer was responsible for providing the Clinton Foundation with $25 million. The story also notes that Downer was the Aussie diplomat who a drunken George Papadopoulos blabbed to in 2016 during a night out in London, an event that ultimately led to the FBI's counterintelligence investigation into Russian election meddling.
It didn't take long for the usual suspects to jump all over this story, as it made the case that Downer and the Clintons were "tied" and thus insinuated they were possibly in cahoots prior to the 2016 presidential election. House Intelligence Committee Chairman Devin Nunes — auteur of the FISA abuse memo, and champion of the "real collusion is between Hillary and Russia" narrative — tweeted out that the Hill report was "very interesting."
New information tonight. Very interesting… https://t.co/RvMwKtwoix

— Devin Nunes (@DevinNunes) March 6, 2018
And, of course, Fox News' Sean Hannity made it a feature of his Monday night show. Making sure to connect the dots between Downer and the Clintons, Hannity brought on Solomon to go over the story. (No surprise, as Solomon is one of Hannity's go-to reporters on the REAL Russia scandal.) During his appearance, Solomon explained that there were only four sources of information that predicated the FBI investigation, insinuating that Downer was tainted by his ties to the Clintons.
And the amplification of the story didn't stop at Hannity. This morning during Fox & Friends, co-host Steve Doocy was shouting scandal, claiming at one point that Downer was a "guy who donated $25 million to the Clinton Foundation." While colleague Brian Kilmeade attempted to correct Doocy and note the money came from the Australian government, Doocy and co-host Ainsley Earhardt continued to sound the alarm that it was a "lot of money" and that this showed that another lynchpin of the Russia probe had ties to Hillary Clinton.
But, does it? Does it really? Because the more you dig, the more it seems like this is all much ado about nothing.
As Kilmeade noted this morning during the F&F segment, the grant money that was allocated to the Clinton Foundation to help fight AIDS was actually from the Australian government. Downer, who was Australia's Foreign Minister at that time, publicly appeared with former President Bill Clinton at the time to make the announcement that Australia was launching the AIDS-fighting partnership with Clinton.
The dastardly Alexander Downer must be the worst co-conspirator ever; couldn't even do his signing of a public document as a public official in secret! pic.twitter.com/UpeyZewpu5

— James West (@jameswest2010) March 6, 2018
One of the things Solomon, his amplifiers, and some GOP lawmakers are arguing is that the Clinton Foundation donation wasn't disclosed as part of the FBI investigation. But why would Downer need to do that? The money never came from him personally. He was merely serving in his role as FM to help broker a partnership between Australia and the former U.S. president's foundation for a charitable cause. And it was all PUBLIC KNOWLEDGE.
Another thing to note is that the amount of money the Australian government pledged to the Clinton Foundation more than a decade ago — the funds were allocated the charity over a period of four years — was a pretty small percentage of the country's overall development assistance. Currently, the country budgets $2 billion a year for those causes, something Bill Clinton's spokesperson pointed out Monday night.
1) The Australians dedicate over 2 billion USD to development assistance each year.

2) The Australian government, not any individual, is the bilateral donor.

3) You all get a pass for not being interested in how development works, but not for being wilfully disingenuous. https://t.co/H05i1aYpeN

— Angel Ureña (@angelurena) March 6, 2018
Meanwhile, the suggestion that Downer — a gaffe-prone conservative best known for a silly photo in which he's seen wearing fishnets and high-heels — is in the tank for the Clinton prompted amusement amongst Australia's media.
Suggesting Alexander Downer is some kind of Clinton stooge is pretty amazing https://t.co/bvPMkuRmu0 #auspol

— Tom McIlroy (@TomMcIlroy) March 6, 2018
Obviously, this is all an attempt by some conservatives to sow doubt in yet another pillar of the FBI's Russia probe, much as they've done through a campaign against the Steele dossier. They've embraced yet another misleading and disingenuous Solomon report that doesn't actually show anything scandalous, in order to claim that there is something nefarious and conspiratorial afoot. And obviously, Solomon knew it would hit that sweet spot, get shared a bunch, and ensure him a hit on Hannity and mentions on F&F.
In this instance, however, they are going to have to do a little bit more than pointing out publicly reported donations from the Australian government that occurred more than a decade ago.
[image via screengrab]
—
Follow Justin Baragona on Twitter: @justinbaragona
Have a tip we should know? tips@mediaite.com