Laura Ingraham Suggests Boston Bombings Should Raise Concerns About Immigration Reform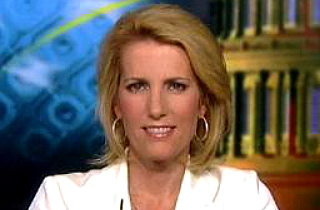 On her radio show Tuesday, Laura Ingraham attempted a connection between Monday's Boston Marathon bombing and current immigration laws.
Ingraham was interviewing Mike McCaul, Chairman of the House Committee on Homeland Security. She opened the segment by pledging to "stay out of the politics here," but proceeded to goad McCall on Chris Matthews' blame salad and Nicholas Kristof's ill-considered tweet yesterday about the lack of an ATF Director.
McCaul largely didn't bite. While he said the attack had "all the hallmarks" of an act of terror, he cautioned against speculation, given the limited intelligence obtained so far. "We don't know the perpetrator or the motive," McCaul said. "It could be either foreign or domestic."
Ingraham finished out the segment with just such speculation. "It is interesting that at this moment, we are considering legalizing or giving regularized status to millions of people," she said. "Pretty much none of them have gone through any rigorous background checks."
"I just think there are all sorts of security implications," Ingraham continued, "aside from the other arguments on immigration, national security implications that we don't talk with enough frankness and certitude here. We can't stop every attack, but my goodness, if we had borders that were shut down, and we actually had a proper screening process, maybe we could stop some of them."
Ingraham is the second prominent conservative figure to link the attack and the proposed immigration reforms, following GOP Rep. Steve King's slightly punchier interview with National Review Online. The focus stems from chatter that a Saudi foreign national was a suspect in the bombings, though authorities have yet to name a person of interest in the investigation.
The Senate's long-awaited immigration reform bill was released today, though with muted fanfare following yesterday's attack.
Listen to the whole exchange here:
[h/t MMfA]
>> Follow Evan McMurry (@evanmcmurry) on Twitter
Have a tip we should know? tips@mediaite.com