Liberty University Students Put Out Statement Denouncing Falwell 'Championing' Trump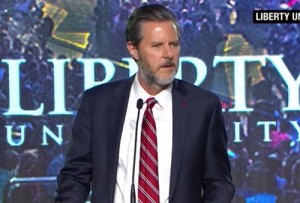 Liberty University president and influential evangelical leader Jerry Falwell, Jr. has not only endorsed Donald Trump, but has gone above and beyond in defending him at a time when you would assume strong Christians would be alarmed by his words and behavior.
Falwell, like many other Christians justifying their support of an adulterer who's boasted about his sexual exploits, has gone with the "all have sinned and fallen short" approach, condemning Trump's old comments about grabbing women by you-know-where while still criticizing their release and admitting that even if the disturbing groping allegations against Trump are true, he's still gonna support him.
Other evangelical leaders have expressed disgust with how people like Falwell have morally compromised themselves and thrown in with Trump, and now it turns out that there are Liberty University students with a serious problem there too.
Both Trump and Mike Pence have spoken at Liberty (Pence was there just this week), and according to CNN, a group called Liberty United Against Trump has had enough of their university being linked to someone like Trump because of their president:
We are Liberty students who are disappointed with President Falwell's endorsement and are tired of being associated with one of the worst presidential candidates in American history. Donald Trump does not represent our values and we want nothing to do with him.
They claim that a "majority" of students and faculty feel the same way and are frustrated that Falwell is using his status and credentials to a candidacy that promotes "the very things that we as Christians ought to oppose."
They believe that Trump's recent comments about coming onto and grabbing women shows that he "proudly speaks evil," and while they are sympathetic to the idea that everyone's a sinner, they don't believe someone who says those things deserves to be president.
"We are not proclaiming our opposition to Donald Trump out of bitterness," they say, "but out of a desire to regain the integrity of our school. While our president Jerry Falwell Jr. tours the country championing the log in his eye, we want the world to know how many students oppose him."
Falwell sent out a statement in response accusing his students of ignoring Jesus' teachings. No, seriously:
"I am proud of these few students for speaking their minds but I'm afraid the statement is incoherent and false. I am not 'touring the country' or associating Liberty University with any candidate. I am only fulfilling my obligation as a citizen to 'render unto Caesar the things that are Caesar's' by expressing my personal opinion about who I believe is best suited to lead our nation in a time of crisis. This student statement seems to ignore the teachings of Jesus not to judge others but they are young and still learning."
[image via screengrab]
— —
Follow Josh Feldman on Twitter: @feldmaniac
Have a tip we should know? tips@mediaite.com
Josh Feldman - Senior Editor