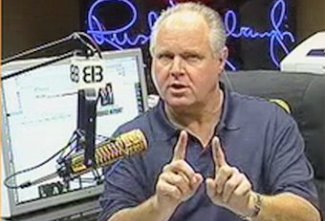 Rush Limbaugh took President Barack Obama to task on Thursday for avoiding the NAACP conference, but sending his surrogates – including Vice President Joe Biden – in his place. Limbaugh said that it was Obama's only option because his presidency has not benefited African-Americans.

RELATED: NY Times Buries The Lede: Anderson Cooper's Ratings Surge At 8PM
Limbaugh slammed President Obama for sending surrogates out to the NAACP conference rather than attending himself.
"He's got nothing to say to them," said Limbaugh. "He's got no good times to share."
"He can't promise them anything better because he's not going to change anything he's been doing – it's only going to get worse for them," Limbaugh continued.
Limbaugh played a clip of Obama's videotaped address to the NAACP conference but interrupted it before the President began to speak of "ladders to the middle class."
"That was [Mitt] Romney that went and talked about ladders to the middle class," said Limbaugh. "Romney is the one who treated them as equals. Romney spoke to them as adults. Romney spoke to them as men and women who have the same objectives for their family as he does."
Limbaugh went on to detail the presidential vacations and fund raising events he has been able to attend over the course of his term in the White House to contrast the lack of time he has to visit the NAACP conference.
"I've been to 158 fundraisers and I'm having more fun – I'm eating well, everything is just exactly as I had imagined – I just don't have time to come to Houston," said Limbaugh.
Listen to the segment below via The Rush Limbaugh Show:
h/t Daily Rushbo
> >Follow Noah Rothman (@Noah_C_Rothman) on Twitter
Have a tip we should know? tips@mediaite.com