Madeleine Albright Apologizes for 'Special Place in Hell' Remark About Women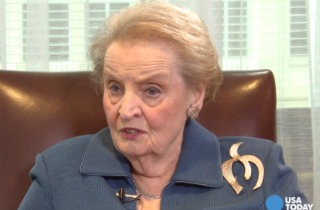 Former Secretary of State Madeleine ALbright recently made a comment about women not supporting other women that she's now apologizing for. While campaigning with Hillary Clinton recently, Albright said there's a "special place in hell" for women who don't support other women.
Now, coupled with Gloria Steinem's comment about how some young women are flocking to Bernie Sanders because that's where the boys are, a lot of people didn't like the suggestion that women should be supporting Clinton and not Sanders. (For context, Sanders won among women, especially young women, in New Hampshire.)
Albright even received criticism from Sanders' wife, who called her comment "unfortunate and disturbing."
Well, Albright penned an apology in The New York Times in which she explained she's said this same thing for years, but understands why it went viral this time:
I absolutely believe what I said, that women should help one another, but this was the wrong context and the wrong time to use that line. I did not mean to argue that women should support a particular candidate based solely on gender. But I understand that I came across as condemning those who disagree with my political preferences. If heaven were open only to those who agreed on politics, I imagine it would be largely unoccupied.
She still argued that it's incredibly important to speak out about women helping each other in a time when "women often feel pressured to tear one another down."
Albright is very concerned about "the tone of the debate" around women's issues and still made the argument that yes, having a female president would be better suited to bring about a shift in how these issues are prioritized:
The battle for gender equality is still being waged, and it will be easier if we have a woman who prioritizes these issues in the Oval Office and if the gender balance among elected officials reflects that of our country. When women are empowered to make decisions, society benefits. They will raise issues, pass bills and put money into projects that men might overlook or oppose.
[image via screengrab]
— —
Follow Josh Feldman on Twitter: @feldmaniac
Have a tip we should know? tips@mediaite.com
Josh Feldman - Senior Editor