Major Garrett and Ed Henry Grill Josh Earnest Over Press Access to President Obama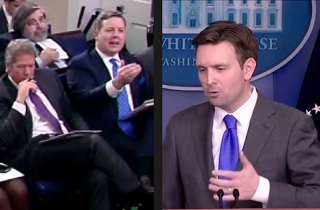 Earlier this week, members of the White House Correspondents Association board lodged an objection to the limited access granted to independent photojournalists, in contrast to that of official White House photographer Pete Souza. At Thursday's White House daily briefing, WHCA board member Major Garrett and past WHCA President Ed Henry grilled Principal Deputy Press Secretary Josh Earnest over that disparity, the effect of which has been compared with Soviet propaganda.
"I'm on the White House Correspondents Association Board," Garrett began, "and it's mine and many other news organizations that presented to you and the White House a letter today about this issue of access — photographic access, but it's a broader question — and the White House insistence of excluding independent photojournalists from events that historically have been available to those journalists for the public consumption. I'd like to give you a chance to respond to this letter and the combined assessment of many journalism organizations for the White House to reassess the policy as it's currently executed."
"Well, Major, on the campaign trail in 2008," Earnest replied, "the President talked a lot about his commitment to transparency, and that is something that the President in office has worked very hard to live up to. There are a variety of ways in which he has done that. But one way in which he and we have done that on his behalf is that literally every single day — every single day — at the end of our day, we take a look at the President's schedule, consider the things that are on there, and look for ways that we can give journalists who cover the White House access to the President; that we can give you and your colleagues a better understanding of what the President is doing, why he is pursuing the priorities that he has identified, and how we hope to make progress on those priorities. That is a basic function of the presidency, is laying out that agenda and communicating with the American public about what it is and why it is a priority."
"But it is the responsibility of those of you who are sitting in those seats to push for more," Earnest continued. "You're supposed to be agitating for more access. If you weren't, you wouldn't be doing your job. So the fact that there is a little bit of a disagreement between the press corps and the White House Press Office about how much access the press corps should have to the President is built into the system. Like I said, if that tension didn't exist, then either you or we are not doing our job."
So suffice it to say that we remain fully committed to trying to give you and the American public access to the President and as much insight as possible into how the President is spending his day, to what priorities the President has identified, and what he's actually doing to make progress on those priorities.
Garrett acknowledged the tension in the WHCA's relationship with the press office, but pointed out that "What is different and what this letter goes to is events that we used to have access to before that we're denied, and then the White House produces its own photography of that event in a way that seems completely designed to exclude independent eyeballs and only have the taxpayer-funded eyeballs of the person who works for the President of the United States."
Earnest responded that "what we have actually done is used a range of new technology to provide people greater access to the President; that there are certain circumstances where it is simply not feasible to have independent journalists in the room when the President is making decisions. So rather than close that off to the American public, what we've done is we've taken advantage of new technology to give the American public even greater access to behind-the-scenes footage or photographs of the President doing his job."
As Earnest finished his answer, Fox News' Ed Henry cut in. "As a former president, I support Major's questions and I think they are important questions," he said, to agreement from Earnest.
"Because when you say that you're providing more access to the American people," Henry continued, "you're shutting off independent journalists who want to cover those events and you're having people who work for the President actually cover the events. How is that independent? How is that more access for the American people?"
"I think what I described, Ed, is that there are certain circumstances where it's not feasible for independent journalists to be covering the President," Earnest said. "I think the best example of this would be in the Situation Room of the White House where, when the President is talking about classified issues, it's just not feasible for us to have those discussions at…"
"That's an outlier, Josh," Henry said.
"Well, it's just not feasible for us to have independent journalists in the room," Earnest replied.
Henry asked "What about meeting with faith leaders? How is that disruptive to bring in…"
"Let me finish my answer," Earnest said, before further explaining the benefits of official White House photography, and adding that "That is not a replacement for independent journalism. That is not a replacement or a substitute for giving independent journalists access to the President and the job that he's doing."
"We remain very committed to making sure that independent journalists are documenting what the President is doing," Earnest added, concluding that "what we do agree on is that the principle of unfettered access to the President of the United States on a regular basis by independent, professional journalists is an important priority and a hallmark of our democracy. That is a — that is something that we agree on and that is — that will be a principle guiding the way that we make these decisions moving forward, as it has been in the past."
There are two distinct issues that are being conflated here. The overwrought comparison of Pete Souza to TASS verges on offensive, and makes little logical sense, in that complaining about "taxpayer-funded" image-making ignores the key fact that there have always been official White House photographers with increased access, but unlike many of them, Pete Souza doesn't have to pay for film. He's on our dime either way, so the suggestion here seems to be that he should take fewer pictures for the same money. Earnest is absolutely correct that more behind-the-scenes images are a win for Americans. That Souza takes beautiful photos, as many White House photographers have, should be a feature, not a bug, and the idea that a serene, contemplative shot of Barack Obama on the Rosa Parks bus is comparable to a shirtless photo of Putin is just offensive. As Earnest said, it's not always "feasible" to have photogs around, and anyone who's ever been anywhere near a gaggle of photographers knows the President wouldn't have been able to hear himself think on that bus. That moment would have become posed, as the President acted like he couldn't hear thousands of shutters per second going off.
On the other hand, Earnest's suggestion that it's the WHCA's job to "agitate" for more access ignores the obvious fact that, in order for board members to be bringing it up at briefings, that agitation had already taken place, without satisfaction. Fine, give Pete Souza his access, but there is no good reason that photojournalists can't also be accommodated. What folks might not know is that there are several levels of press access to the President, from "Open Press (everybody gets to go)", to "Pool Only (also sliceable into print-only, TV-only, etc.)," but for many events, like meetings with world leaders, there will be a "pool spray" at the top or bottom of the event, at which pool photographers can snap pictures for a few minutes. While you can't have a bunch of photographers clicking away at a security briefing, there are very few events (like lunch with Hillary Clinton) that couldn't have a pool spray added with minimal disruption. It's a small headache that the White House should grin and bear.
Have a tip we should know? [email protected]