Man Fired Warning Shot at Census Worker Before CNN's Erick Erickson's Shotgun Comment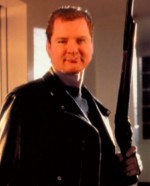 The uproar surrounding CNN commentator Erick Erickson's comment about pulling a shotgun on an ACS census worker seemed to be dying down, after rippling all the way to the White House. News reports about a March incident (prior to Erickson's comments) in which a warning shot was fired (with a shotgun) at a census worker may turn the heat back up.
CNN has thus far stood by Erickson and his explanation of the comments, and Robert Gibbs begged off the question of whether security should be a concern for census workers, but publicity surrounding this incident could change all of that.
The Associated Press has picked up the story of an Idaho man who has been cited for firing a warning shot at a census worker with his shotgun:
The census worker alleges he was trying to deliver (Richard L.) Powell the population-counting questionnaire on the afternoon of March 3, when Powell told the worker to get off his property…

Powell then went into his residence and returned with a shotgun, and fired the gun in the air, the Benewah County Sheriff's Office said.

The census worker waited a few days before reporting the alleged crime to the sheriff's office, and Powell was cited a week after the alleged incident.
Here's the most important thing to note about this story: Unless Erick Erickson has an extremely pimped-out DeLorean, there's obviously no way he can be blamed for this incident. Since the incident wasn't reported right away, there are apparently no news reports about it prior to April 10. There's a pretty good chance that some blog, somewhere, will see the dateline and report this incident as coming after Erick's comments.
The other thing to note is that public figures make reckless or irresponsible comments all the time. Chances are, your favorite talking head or politician has made one. The popularity of politics as cable bloodsport has created a climate in which it is difficult to step back and say, "Maybe I shouldn't have said that."
However, when inflammatory comments, for which Erickson has a particular aptitude, are mirrored in real life, that's the time to rethink them. Perhaps now would be a good time for Erickson to clarify, to tell people not to pull shotguns on census workers (ACS or otherwise), and to tell them that no census worker has threatened anyone with arrest or imprisonment. He certainly cannot be blamed for Richard Powell's actions, but Erick could help tamp down any future incidents fueled by his example.
I asked CNN if they had anything to add to their previous statement, and they declined to comment for this story. Erick Erickson has not yet responded to request for comment.
Have a tip we should know? tips@mediaite.com