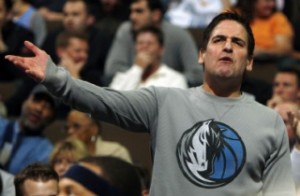 Dallas Mavericks owner and prominent Hillary Clinton surrogate (and vocal Donald Trump critic) Mark Cuban has revoked the media credentials of two ESPN basketball writers. This effectively bars them from attending Mavericks basketball games as members of the press.
Tim Cato of SB Nation reports that the dispute between Cuban and ESPN stems from the transitioned role of one of the writers, Tim MacMahon. After previously serving as a beat writer dedicated solely to coverage of the Mavericks, MacMahon was moved into a more general role covering several teams, meaning that ESPN is scaling back its coverage of the Mavs during a season which they've started at 1-5 and are expected to struggle. The other writer, Mark Stein, was already splitting his time between multiple teams as a prominent national writer, despite living in Dallas.
The Mavericks have not issued official comment, but Cuban did speak briefly to writer Art Garcia:
Cuban didn't give reasons for Stein & McMahon media ban: "They're not banned from the building. They can still buy a ticket." #ESPN #NBA

— Art Garcia (@ArtGarcia92) November 7, 2016
Mark Cuban has criticized the repbulican Presidential nominee for, among other things, a lack of transparency — to the point where he offered $10 million to a charity of Trump's choice if he agreed to sit for a four-hour interview with the Mavs owner.
Dallas Morning News sports writer Tim Cowlishaw pointed this out on Twitter in his criticism Cuban for revoking the credentials of the two ESPN writers.
Yes, this is true. Yes, this is Cuban being a moron. Nothing new in itself, only new level for him. Funny he bashes Trump for this behavior. https://t.co/1JXj3zVyrr

— Tim Cowlishaw (@TimCowlishaw) November 7, 2016
And @mcuban will think this is all just good publicity for him and his little 1-5 team. And he's wrong again. https://t.co/9Ygzy33GCJ

— Tim Cowlishaw (@TimCowlishaw) November 7, 2016
Cuban fired back at Cowlishaw, with whom he's sparred in the past on social media:
@TimCowlishaw @LandryLocker just think Tim. The next time you understand a business issue will be the first time. Per usual. Muahh

— Mark Cuban (@mcuban) November 7, 2016
Sadly my business acumen isn't really the story tonight Mark. But I understand you wanting to shift gears. https://t.co/Mr0trvfHAE

— Tim Cowlishaw (@TimCowlishaw) November 7, 2016
@TimCowlishaw @LandryLocker you are right about your business acumen . There is no shifting. Feel free to ask ESPN mgmt what the issue is

— Mark Cuban (@mcuban) November 7, 2016
ESPN, for its part, issued a statement through a spokesman according to Cato which said simply, "We're committed to thoroughly covering the Mavs and the NBA."
Cuban appeared with Hillary Clinton at a rally on Pittsburgh on Friday.
[image via screengrab]
–
Follow Joe DePaolo (@joe_depaolo) on Twitter
Have a tip we should know? tips@mediaite.com
Joe DePaolo - Senior Editor