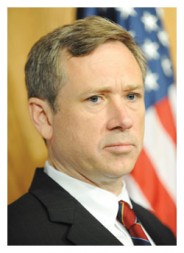 If Illinois Senate candidate Mark Kirk didn't have enough problems related to inconsistencies in what he says about his  military record and awards, the story that Kirk has been "outed" as gay by an infamous gay activist has finally gone mainstream.
After days of the rumor percolating in the blogs, alternative and gay press, a reporter for Chicago's WGN last night asked Kirk whether he was gay  after he left a meeting at a local VFW hall:


Here's his reaction:
Reporter: You said you are not gay? Why do the bloggers keep saying that?

Kirk: Because I guess I got divorced, but I hope to remarry one day.

Reporter: To a woman?

Kirk: Absolutely.
On Tuesday, Michael Rogers at BlogActive broke the story that he had met Kirk at a Washington, D.C. party in 2004 and that Kirk had implied he was gay. Rogers–who has outed other politicians–said he had other sources confirming the belief that Kirk was gay.
Since then, the story has been covered by the LGBT press and blogosphere, as well as  Huffington Post, Michael Musto at the Village Voice, and even Morton Kondracke at CQ Politics.  The story has also been the buzz in Chicago, with coverage by Chicagoist and Time Out Chicago.
In his post, Rogers said he decided to go public with his story after Kirk failed to vote for repeal of Don't Ask, Don't Tell which bars gay servicemembers. Kirk is a moderate Republican who has long had a strong voting record in favor of LGBT rights in Congress.
Rogers, who was the subject of the documentary Outrage, has a history of outing politicians who are allegedly gay. His targets have included Rep. Ed Schrock, Sen. Larry Craig, and Rep. Mark Foley.
This is not the first time that rumors about Kirk's sexual orientation have floated around his campaign, although the story has always come from Kirk's far right, not his far left.
The Kirk  "outing" story has been fascinating to watch because it a story that is now moved not just through the traditional print press, but through social media and blogs.  The story moved quickly in the LGBT press and blogosphere, despite there being little agreement on the ethics of outing.
With the exception of the odd Kondracke column, however, the story had remained below the surface and wasn't discussed by the mainstream and political media.  But now that WGN has broken the story for the mainstream, can we expect political bloggers to pick up the story?
The ethical question is why does it matter and is it "news."  The fact that Kirk has been on the defensive for a week about inflating his military record make the rumors more interesting. But is the rumor just another political attack not worth mentioning or is the fact that the rumor is out there from someone with a track-record for consistency make it a larger story?
Have a tip we should know? tips@mediaite.com