Mark Knoller, Fox Affiliate, and Keith Olbermann Among Many to Commit Obama/Osama Gaffe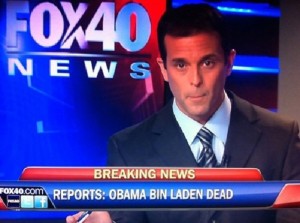 One of the instant memes to pop up around the killing of 9/11 murderer Osama bin Laden is the inevitable confusion between the dead terrorist's first name, and the President's last name. Popular on Twitter right now is this screenshot of a Fox affiliate's chyron, announcing "Obama bin Laden Dead."
They're not the first to make the mistake, and weren't the last, but in an amusing twist, former/future Countdown host Keith Olbermann called out Fox 40's gaffe…right after he made the very same error (since corrected).


Lucky for Olbermann, his critique of Sacramento Fox affiliate KTXL's gaffe was relatively gentle:
Lastly, you can't stop them, you can only hope to contain them. This twitpic from ESPN Chicago correspondent Sarah Spain appears to have come from the Fox affiliate in Sacramento. Sigh.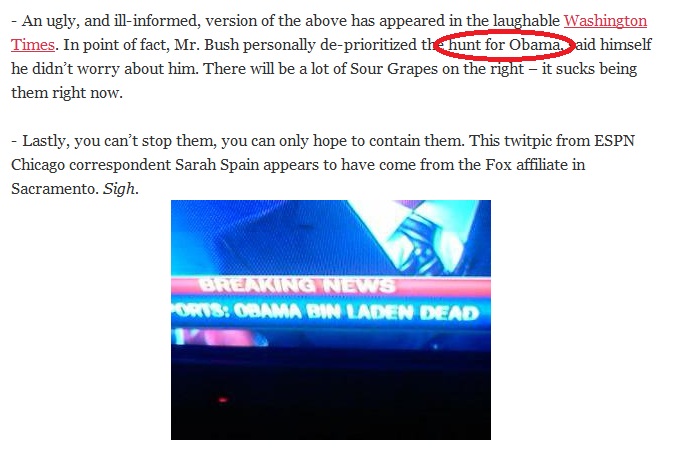 Even the normally impeccable Mark Knoller of CBS Radio goofed in a tweet late Sunday night, saying "Surprised if Hollywood types not up late putting together deals for a movie on the 'Raid on Obama,'" later noting the error by saying "Forgive the typo. 'raid on Osama.'"
This gaffe is as inevitable as it is unfortunate, and it dates back to Barack Obama's emergence onto the national stage. Although liberals are suspicious when a conservative commits the flub, no less a liberal giant than the late Sen. Ted Kennedy has also made the mistake. In other words, it happens to the best of us.
I can't be certain, but I don't think I've ever let one slip out, although I have had to correct many an "Obasma" or "Obsama" in my years as a political journalist. I can also confess to having actually rehearsed against such a gaffe before radio appearances. "Osama bin Laden. Barack Obama."
Such are the perils of living in a country that admirably doesn't hold the quirks of your name against you, giving hope to the "Agolf Hidlers" of the world that, if they do everything else right, they, too, can be elected president.
This is an opinion piece. The views expressed in this article are those of just the author.