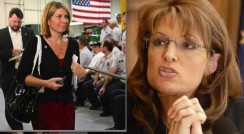 Oh dear. Perhaps the real genius of Sarah Palin's press tour thus far is that in forcing some of her subjects to come out and disclose what actually happened versus Palin's version of events she's actually making them look sort of like idiots. Talk about Catch-22. Case in point: Nicolle Wallace.
Wallace, who gets some prime if not necessarily flattering space in Going Rogue, is the campaign adviser McCain put in charge of Palin. She is also the person Palin taps as being responsible for the now infamous Katie Couric interviews. According to Palin, Wallace "pushed for Katie Couric" because the CBS anchor "needed a career boost." Earlier this week Palin told Oprah she hadn't especially been prepped for the interview because it was just supposed to be a "lighthearted, fun, speaking with working moms and the challenges we have with teenage daughters."
Not so! Wallace agreed to an off-camera interview with Rachel Maddow last night (John McCain has requested that no former staffers do TV interviews) calls the whole conversation "fiction." She also told Maddow that those interviews, which were in fact taped in front of the UN during General Assembly last year, had been set up to "highlight her foreign policy savvy [in the context of] the U.N. General Assembly. The picture is in front of the U.N. to highlight her expertise and readiness to be Vice President — it wasn't about two working gals." Emphasis mine. Now let me ask you, who comes out looking the worse for this disclosure, Palin? Whom, as we are all painfully well aware, was and is not in possession of a great deal of "foreign policy savvy" or the McCain campaign for not only picking her in an insultingly blatant political move, but for thinking they could in such a short period of time convince the country that she was equipped to be one heartbeat away from the Oval Office. No wonder McCain doesn't want his former staffers on TV. Maddow video below.

Have a tip we should know? tips@mediaite.com