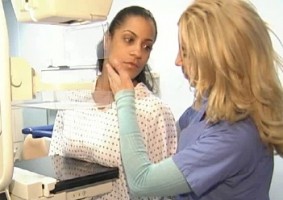 The Federal Task Force on Clinical Preventive Services has issued new guidelines that drastically scale back the use of routine mammography and breast self-examination. Others in the medical community have condemned the change, but the Task Force's recommendation carries extra weight, as its guidelines are the basis for minimum benefits standards in the recently-passed House health care bill (Title II, Subtitle c, Sec. 222). Between this and the Stupak amendment, a showdown is looming over women's health. Already, Democrat Debbie Wasserman Schultz has called for Congressional hearings, which are now slated for early December.
The new guidelines call for routine mammography to begin at age 50 instead of 40, and for those exams to be performed every 2 years after age 50. They also recommend against teaching breast self-examination. The guidelines do not apply to women with a family history or other risk factors for breast cancer. The Task Force says the new guidelines are supported by medical evidence, but use somewhat chilling language. For example:
For biennial screening mammography in women aged 40 to 49 years, there is moderate certainty that the net benefit is small.
Women like Congresswoman Wasserman Schultz, a breast cancer survivor, might argue in favor of that "small net benefit."
The rationale for the changes involves "harms" which include psychological harms, unnecessary imaging tests and biopsies in women without cancer, inconvenience due to false-positive screening results, psychological harms, unnecessary imaging tests and biopsies in women without cancer, and inconvenience due to false-positive screening results. None of these, I would point out, will result in death.
The primary concern over the new recommendations is the likelihood that private insurance companies will use them to cut back mammography benefits. This is a very real concern, as most insurance companies already use Department of Health and Human Services guidelines when determining the level and frequency of preventive services like mammograms or vaccines.
Unfortunately, there is the potential for this to become a misleading political football. Because the Task Force's recommendations are codified in the House's reform bill, some may try to point to this as evidence of "Death Panels" or "government rationing." Understand that guidelines from this exact agency are in use right now by private insurance companies.
In fact, the good news here is the swiftness with which Congressional hearings were scheduled. What actions result from them will be the true test.
As far as health care reform goes, this issue points up the need to look at revising the way minimum benefits are established, or at least changed. With something as important as breast cancer screening, there ought to be a mechanism that ensures a broader medical concensus than this when changing benefits.
Have a tip we should know? tips@mediaite.com