McCain Hits 'Poorly Informed,' 'Impulsive' Trump in New Op-Ed: We Are Not Your Subordinates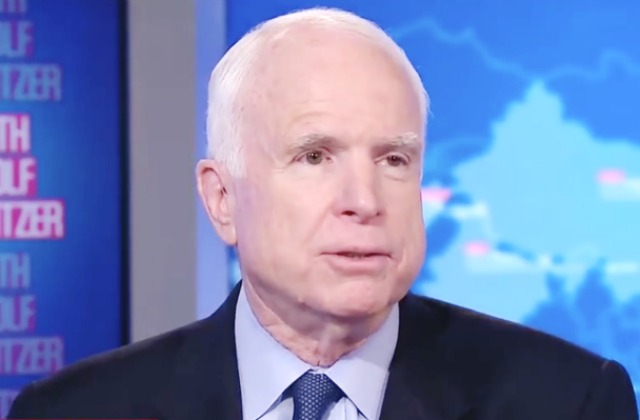 As John McCain prepares to return to the Senate next week, he penned an op-ed where he took multiple swings at President Trump.
The Arizona Senator wrote a piece for Washington Post where he laid out his thoughts about the country's efforts to move forward from the racial nastiness in Charlottesville last month. McCain also expressed his concerns that hyper-partisan gridlock is thwarting Congress by creating a political atmosphere where compromise and cooperative problem-solving are impossible.
As it were, McCain seemed to suggest a lot of the discord has to do with Trump:
That has never been truer than today, when Congress must govern with a president who has no experience of public office, is often poorly informed and can be impulsive in his speech and conduct.

We must respect his authority and constitutional responsibilities. We must, where we can, cooperate with him. But we are not his subordinates. We don't answer to him. We answer to the American people. We must be diligent in discharging our responsibility to serve as a check on his power. And we should value our identity as members of Congress more than our partisan affiliation.
In the last several days, Trump and McCain entered the latest chapter of their contentious relationship with one another. Trump went after McCain for his vote against the latest effort to eliminate the Affordable Care Act, and the senator blasted the president for pardoning Joe Arpaio for contempt of court.
Even so, McCain isn't the only GOP senator telling Trump he can't boss people around until they do whatever he wants them to do.
[Image via screengrab]
— —
>> Follow Ken Meyer (@KenMeyer91) on Twitter
Have a tip we should know? [email protected]