Media Fail: News Orgs Neglect To Critically Assess Mike McQueary's Self-Exonerating Email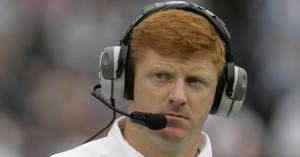 A disturbing pattern is emerging in the coverage of the Penn State alleged child rape story, in which media outlets employ varying degrees of dereliction that have the effect of softening the wrongs of its participants. The latest iteration of this is the reporting on an email from Penn State assistant Mike McQueary, to a friend, in which McQueary tries to mitigate his sickeningly inadequate reaction to witnessing Jerry Sandusky raping a child in the Penn State showers.
McQueary has become something of a tangential lightning rod in the Penn State story, in some ways being portrayed as a more heinous villain than accused child rapist Jerry Sandusky. McQueary told a grand jury that he walked in on Sandusky raping a ten or eleven year-old boy in the Penn State showers, caught Sandusky's eye, then "immediately left," waiting until the following day to report the incident to Penn State personnel. This began a long string of cowardice, as everyone involved failed to report the crime, or really do anything about it. Between Sandusky and those Penn State officials who covered up for him sits McQueary, singled out for extra helpings of public scorn.
Mediaite founder Dan Abrams recently wondered about that phenomenon, and while there's no easy answer to that, the closest I can come is to observe that Sandusky's alleged actions are those of a monster, and Penn State's inaction was that of an unfeeling, inhuman bureaucracy. McQueary, though, is the human proxy for everyone who reads about the story, the guy who saw it with his own eyes, and utterly bungled the pass/fail equation for that situation. At every step thereafter, the onus remained on McQueary to do what we would do, to say, "No, you don't understand, he was raping a child in the shower!" until somebody did the right thing to Sandusky.
McQueary seems to know this. Suspended with pay out of fear for his safety, he sent an email to a friend last week, trying to take some of the heat off of himself. The contents of that email are widely being reported as a claim by McQueary that he "stopped" the rape of that child by Sandusky, and that he spoke to police about the incident. The latter is an accurate, if not entirely credible, paraphrase of what McQueary said, but the former is a gross oversell. Here's how the Associated Press reported on the McQueary email:
In the email dated Nov. 8 from McQueary's Penn State account and made available to The Associated Press by his friend on Tuesday, the assistant coach writes that he stopped the sexual assault and discussed it with police afterward.

"I am getting hammered for handling this the right way … or what I thought at the time was right," he says. "I had to make tough impacting quick decisions."
Like a Reuters report on Sandusky's lawyer a few days ago, this AP report curiously neglects to include the direct quote that pegs to their headline. Here's the full content of the email: (emphasis mine)
… you are the first person I have told this … and I don't know you extremely well … and I have been told bye officials to not say anything …

I did stop it, not physically … but made sure it was stopped when I left that locker room … I did have discussions with police and with the official at the university in charge of police …. no one can imagine my thoughts or wants to be in my shoes for those 30-45 seconds … trust me.

Do with this what you want … but I am getting hammered for handling this the right way … or what I thought at the time was right … I had to make tough impacting quick decisions.

This is off record … again … I have not and will not say anything to anyone else.
The AP, and other outlets, should not be abetting McQueary's image rehab by misleadingly paraphrasing that email, especially when it costs nothing to simply quote it directly. "Not physically?" Did McQueary cut Sandusky down with Mind Bullets?
Now, the reader can decide how important the distinction is, but "making sure it was stopped" is not the same thing as "stopping it." Coupled with his grand jury testimony, McQueary seems to be happy to take credit for the obvious fact that catching Sandusky's eye in mid-rape probably ruined the mood for him. Yes, "it stopped," but "McQueary stopped it" the same way I "stop" the rain when I open an umbrella.
In much the same way, when McQueary fled that locker room, it is almost a certainty that the rape continued, if not that night, then for years thereafter. It is for the reader to decide what measure of "credit" McQueary deserves for catching Sandusky's eye (maybe mouthing the words "Ix-nay on the ape-ray?"), then leaving the child in that shower with his rapist to go home and talk it over with his dad. If you missed it, here is what McQueary told the grand jury. See how it squares with his email:
It was about 9:30 p.m. As the graduate assistant entered the locker room doors, he was surprised to find the lights and showers on. He then heard rhythmic, slapping sounds. He believed the sounds to be those of sexual activity. As the graduate assistant put the sneakers in his locker, he looked into the shower. He saw a naked boy, Victim 2, whose age he estimated to be ten years old, with his hands up against the wall, being subjected to anal intercourse by a naked Sandusky. The graduate assistant was shocked but noticed that both Victim 2 and Sandusky saw him. The graduate assistant left immediately, distraught.
McQueary also claims, in his email, that he "did have discussions with police and with the official at the university in charge of police," which is partially consistent with his grand jury testimony. About a week and a half after the alleged rape, McQueary met with Gary Schultz, who oversees the University police, but according to the grand jury report, McQueary "was never questioned by University Police and no other entity conducted an investigation until he testified in Grand Jury in December, 2010."
Was McQueary rationalizing a stretch of his meeting with Schultz in a private email to save face with a friend, or did Schultz and McQueary lie under oath to a grand jury in a way that was detrimental to both of them? That's another judgment for the reader to make, but they can't make it if it's not presented to them.
Presenting the claim that McQueary "stopped an alleged assault by Jerry Sandusky on a 10-year-old boy in 2002 and went to the police about it," without the crucial context that his "off the record" email to a friend is contradicted by sworn grand jury testimony, is journalistic dereliction. So is subtly altering the content of that email through paraphrasing, rather than directly quoting it.
Mike McQueary should be asking for forgiveness, not making excuses, and journalists ought to be vetting those excuses, not abetting them.
Have a tip we should know? tips@mediaite.com