GOP Rep. Matt Gaetz Invited Alt-Right Troll Chuck Johnson to State of the Union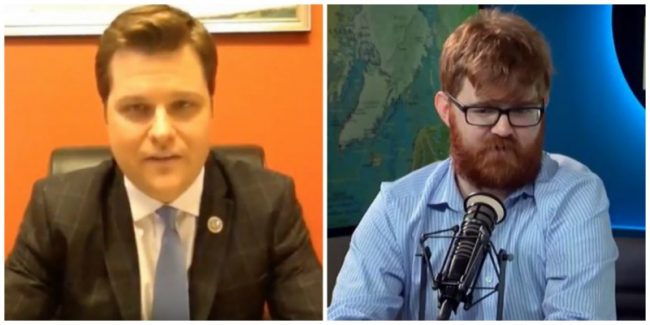 A GOP congressman who has been one of the leading voices of #ReleaseTheMemo and recently appeared on conspiracy theorist Alex Jones' InfoWars decided to give one of his State of the Union tickets to a Holocasut-denying alt-right troll who has been permanently banned from Twitter.
During President Donald Trump's address to the nation last night, some keen-eyed observers noticed GotNews owner Chuck Johnson in the gallery. Earlier today, The Daily Caller's Chuck Ross noted that Johnson attended the SOTU as a guest of Rep. Matt Gaetz (R-FL).
Chuck Johnson tells me he was Rep. Matt Gaetz's State of the Union guest. "I like guys with a 'fuck you' mindset."

— Chuck Ross (@ChuckRossDC) January 31, 2018
This was followed up by a report by the Daily Beast that confirmed that Gaetz was the one who provided Johnson with the ticket. The way Gaetz explains it to the Beast, he had an extra ticket available and gave it to Johnson after the notorious far-right media figure showed up at his office the day of the address. The Florida congressman further noted that he didn't have a prior relationship with Johnson prior to yesterday.
Johnson, however, said that he knew Gaetz and even though other members of Congress invited him as a guest, he went with Gaetz because they agreed on a lot.
Fron the Beast's report:
Johnson offered a different explanation of how the evening came together. Initially, he said he and Gaetz were introduced by another member of Congress, whom he declined to name. In a separate conversation with The Daily Beast, however, Johnson said that he was invited by several members of Congress but "took Gaetz's invitation" as "he's into stuff on the issues that I care about."
Gaetz's profile has risen in recent months among the MAGA crowd due to his embrace of the narrative that the FBI and DOJ are infected with an anti-Trump Deep State that has been working to undermine the president. Besides appearing on Jones' program to discuss the need to release the Nunes memo, Gaetz has shown up regularly on cable news to make the case that there is a conspiracy at play.
[image via screengrab]
—
Follow Justin Baragona on Twitter: @justinbaragona
Have a tip we should know? tips@mediaite.com