Mediaite Founder Dan Abrams Under Attack Online After Declaring #PizzaGate 100% False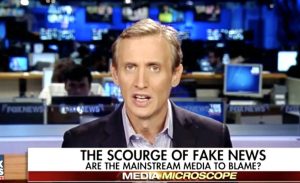 Mediaite's founder, Dan Abrams, joined Howard Kurtz on Fox News Channel's Media Buzz today, which has led to some major blowback online.
Like so many other big media personalities, they discussed the so-called "Pizzagate" scandal. To catch you up, the fake news item asserted that leading Democrats have been trafficking children out of a D.C.-based pizzeria to pedophiles. The panic over the rumor reached a fever pitch earlier this month when a man entered the family restaurant with a gun and fired it, all to "investigate" whether children were actually being held there.
Kurtz and Abrams spoke about how to stop the spread of fake news.

Abrams said that those who refuse to believe anything out of a sense of bitterness toward the mainstream media need to at least reject "fake news," which is false information that is written and distributed for profit. Not agreeing with the facts presented by mainstream outlets does not give a person license to disregard those facts, nor is it a good reason for someone to ignore when their contacts are spreading lies.
Abrams insisted that the Pizzagate theory is "total nonsense" and "100% false," which plenty of people have been doing since an armed vigilante took it upon himself to see if Hillary Clinton is hiding a bunch of kids under a pizzeria, but now is facing down an online mob full of people who are sure that not only does Clinton traffic children to high-paying pedophiles, but Abrams is covering for her.
Why don't you address the odd Podesta emails which started Pizzagate? Not doing so makes you suspicious. @MediaBuzzFNC @danabrams

— Doug Ross (@douglaross) December 11, 2016
I don't know about #pizzagate but the fact no one will touch it with a 10 foot pole is very curious to me. @danabrams @HowardKurtz

— RepublicanRule (@nurserenee1) December 11, 2016
@danabrams Before you dismiss #PizzaGate as #FakeNews DO SOME RESEARCH! Do your job as a journalist, INVESTIGATE!
?????????????

— MAGADauntlessDiamond (@diamondgirl2222) December 11, 2016
@danabrams #PizzaGate, since you are saying it is a 100% fake, I encourage everyone to start researching you on Reddit! Are you one of them?

— Janice Thompson (@Janiceplus9) December 11, 2016
@MediaBuzzFNC @danabrams U just dont want to believe #pizzagate. Evidence rampant worldwide. Why don't U report the evidence found? Dare ya

— Red Nation Christmas (@oklegacy) December 11, 2016
@HowardKurtz @danabrams If just one credible journalist would thoroughly investigate #pizzagate, they would actually find evidence. I dare u

— L commander (@Lori_Commander) December 11, 2016
@HowardKurtz @danabrams How long have tabloids been around? Where's your concern about them? This is all about suppressing #PizzaGate info..

— Barracuda Jacket (@BarracudaJacket) December 11, 2016
It goes on and on that way. In spite of Abrams making the clear point that it is irresponsible and foolish to believe something because it can't be disproven, multiple people on Twitter have called on him to prove that Pizzagate is false before declaring it is.
A new Public Policy Polling poll has revealed that "14% of Trump supporters think Hillary Clinton is connected to a child sex ring run out of a Washington DC pizzeria," and, "Another 32% aren't sure one way or another, much as the North Carolinian who went to Washington to check it out last weekend said was the case for him."
With those numbers in mind, it isn't necessarily shocking that so many on Twitter are calling for Abrams to be investigated. Note that their chosen user names reflect that they are Donald Trump voters — "MAGADauntlessDiamond" — or at least right-leaning — "Red Nation Christmas" — which is in keeping with what we know about who tends to consume and believe fake news.
Is this what news will look like in the "post-truth" era? Something is true until proven false? And if it can't be proven false — no matter how ridiculous it is — credible purveyors of facts will be attacked? If that's the case, what will the news media look like in four years? Will it exist at all?
It will be impossible to answer these questions, of course, because no one will believe anything we say, anyway.
[image: screengrab]
This is an opinion piece. The views expressed in this article are those of just the author.