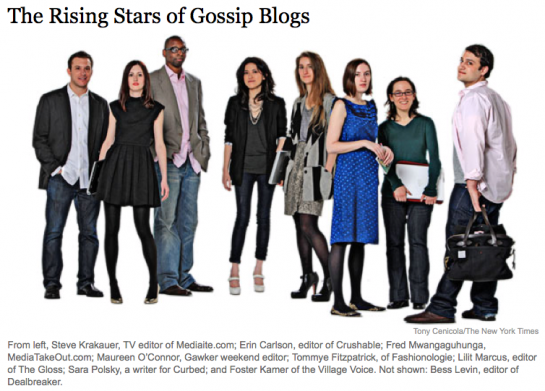 Congratulations to Mediaite TV Editor Steve Krakauer on being profiled in this week's New York Times Thursday Styles section as a rising blogger, even though we raised a wee brow at the notion that Steve's reporting on ratings, personalities, trends and news on the TV beat counted as "gossip" any more than, say, MediaDecoder does. Steve was featured along with the Village Voice's Foster Kamer, Media Takeout's Fred Mwangaguhunga, Crushable's Erin Carlson, Gawker's Maureen O'Connor (whose shoes beat out Foster's jaunty bag, it must be said), Fashionologie's Tommye Fitzpatrick, The Gloss' Lilit Marcus, Curbed's Sara Polsky and Dealbreaker's Bess Levin.
Read all about Steve here — but we've got some exclusive material you didn't see in the article. Featured bloggers were sent a questionnaire by reporter Alex Williams, and we have exclusively obtained part of Steve's to share with you here.
************
Age: 25

Hometown: Westfield, NJ

Educational background (including major): Syracuse University, Broadcast Journalism major

Personal journalistic hero/model/inspiration: Woodward and Bernstein? But really, Cal Ripken Jr.

Current blog traffic (and, rate of traffic increase, if it applies): Approximately one million unique visitors and more than four million page views per month. (Ed: Steve cited Feb numbers here; our March numbers improved on this rather significantly.)

Number of posts a week: 35-40

Biggest scoop/hit (describe, including measure of impact): We were the first blog to notice and write about the NBC Cafeteria Black History Month "fried chicken" menu. The post translated to a lot of page views, but bigger was the impact – that night Wanda Sykes was joking about it on Jay Leno, and it was covered throughout TV news. (See here.)

Personal favorite line/phrase in any recent post of yours: Headline to the John Mayer/Playboy interview post: "John Mayer's Penis Is A Racist Wonderland"

Biggest rival in blog world: Oh we're all about the love at Mediaite! Well we enjoy some friendly competition with Gawker, the Huffington Post and more.

First blog other than your own you check every morning (feel free to elaborate): Well of course there's the rest of the Abrams Media family – Geekosystem, Styleite (launching Monday!) – and right now, keeping an eye on Twitter is the best way to stay up on the day's biggest stories.

Favorite sparring partner (subject you've written about and gotten into a tangle with; please describe): For whatever reason, MSNBC anchor Keith Olbermann has taken to bashing Mediaite a few times on his prime time show. We can take it though. (See here and here.)

How do you stay sane/decompress after 12/16/whatever-hour days (or whatever) staring at a computer: Although I write about TV for a living, I wish I could say I did something other than watch TV to decompress. Instead, there's a lot of bad TV I watch (and occasionally write about) like Jersey Shore and Real World, go to the gym, and grab the occasional drink or six.

Ultimate career goal: To be the next Conan O'Brien (so…unemployed?). No, I would love to have a role in getting young people excited about news, politics and current events.
Have a tip we should know? tips@mediaite.com