Mediaite Morning Reading List: Everything You Need to Know About the Iran Nuclear Deal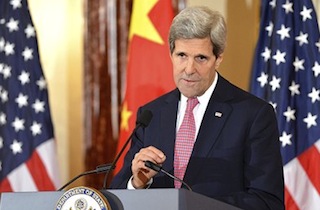 Early Sunday morning, Secretary of State John Kerry reached a deal with Iran to halt aspects of its uranium enrichment in exchange for a relief from select sanctions, the first thaw in the countries' relations in three decades. How'd it happen? What's next? As Grampa Simpson would say, who's fer it and who's agin it? Everything you need to know, below:

Q&A: Iran nuclear agreement (Guy Dinmore, Financial Times)
FT has a strong breakdown of the deal, detailed enough on sanctions and nuclear technology without being impenetrable, clear-eyed about the significance of what the two sides conceded, and sensitive to the differences in how each side views what was achieved. Main takeaway: the dispute over whether this deal granted Iran the "right" to enrich uranium. Kerry swears it does not, but FT says it gives this right de facto recognition.
"Obama Advised Netanyahu of Iran Talks in September" (Matthew Lee, Bradley Klapper, and Julie Pace, Associated Press)
The AP revealed on Sunday that the talks leading up to this deal have been underway secretly for a year, with other heads of state, like Israeli Prime Minister Benjamin Netanyahu, only being informed of them two months ago. The timeline sheds new light on a whole host of issues, from the scampering to avoid military strikes in Syria, to Iranian President Hassan Rouhani's "snub" of President Barack Obama at the U.N. General Assembly in September, to Netanyahu's blistering speech against Iran at the same event, which he delivered just one day after discovering the negotiations.
The secret talks were brokered by Oman's monarch, who maintains good relations with the U.S., Saudi Arabia, and Iran, and gained steam after the election of Rouhani, whom many consider a relative moderate (though, notably, five top-level meetings took place before his election). If you have any interest in cloak-and-dagger diplomacy—U.S. officials used side entrances and cargo elevators, for instance, to avoid revealing the nature of what they were up to—then AP's piece on the development of the talks is a must.
"'Great Satan' Meets 'Axis of Evil' and Strikes a Deal" (Louis Charbonneau, Parisa Hafezi, and Arshad Mohammed, Reuters)
Reuters fills in some blanks on the Iranian side, most important of them: how did Iran come to the table with "The Great Satan" in the first place? Get it:
Around the time that Kerry was taking over the State Department, Zarif's predecessor, Ali Akbar Salehi – then serving as foreign minister under Ahmadinejad – sent an extraordinary three-page, hand-written letter to Khamenei, calling for "broad discussions with the United States".

The supreme leader, though cautious about the prospect, sent a reply to Salehi and the rest of the cabinet: he was not optimistic but would not oppose them if they pursued the initiative, several sources said.

"Salehi endangered his career – and even his security," said a source who knows Salehi and saw the letter. "But he said this letter will be registered in history." In August, Rouhani put Salehi in charge of Iran's nuclear agency.
There's also some good play-by-play of the final hours of the negotiations; apparently the Iranians tried to introduce new terms at the last minute, which Kerry refused at the risk of spoiling the deal, and so on. Exciting!
"History Lesson: 10 Years of Negotiating Positions Between Iran and World Powers" (Glenn Kessler, Washington Post)
How'd we get here? Glenn Kessler, better known as Washington Post's fact-checker, was the paper's diplomatic correspondent for much of the last decade, during which Iran was engaged in a complicated pas de deux with the west over its nuclear program. He gives you some crib notes for the progression from 2003 to yesterday.
"Now for the Hard Part" (Matthew Kroenig, Foreign Policy)
FP games out three possible outcomes after this six-month interim deal concludes: a comprehensive deal is achieved to dismantle Iran's nuclear program; the two sides are unable to reach a deal but continue the interim agreement, with the danger that the stop-gap negotiation becomes permanent; or the tenuous alliance disintegrates, at which point we're back to passing harsh sanctions. Kroenig seems to think the second is the likeliest.
"U.S. Lawmakers Greet Iran Nuclear Deal with Skepticism and Restraint" (Richard Simon, Los Angeles Times)
The successful implementation of this deal relies on Congress implicitly approving it by not passing new sanctions on Iran next month. Fortunately, Congress is a deliberative and august body known for careful who am I kidding.
The deal induced bipartisan skepticism on Sunday, not only from the predictable GOP lawmakers like Mike Rogers (R-MI) but also from Democratic senators like Robert Menendez (D-NJ) and Chuck Schumer (D-NY). House Speaker John Boehner (R-OH) is playing his cards close to his chest thus far, but many media outlets are already pitching the dispute over sanctions as another congressional "showdown." How many showdowns are we up to, now?
"Media Back, and Attack, Iran Nuclear Deal" (Greg Mitchell, The Nation)
The Nation's Greg Mitchell surveys the major op-ed pages for responses. The New York Times supports it, the Wall Street Journal decries it, the Washington Post is very cautiously optimistic. ("For now, the prudent course is to give diplomacy its chance.") Before you go wailing about liberal or conservative media, Mitchell throws this in:
I'm sure what will not appear: apologies from Bill Keller and Nick Kristof of The New York Times and other liberals for urging US bombing of Syria two months ago—which would have killed (besides a lot of civilians) any Iran deal.
Ha'aretz gives the lefty-Israel response (this humble scribe is confident you can find the non-lefty Israel response on your own computer machine); meanwhile, Charles Krauthammer calls it a "sucker's deal."
[Image via Sipa USA/Rex]
——
>> Follow Evan McMurry (@evanmcmurry) on Twitter
Have a tip we should know? tips@mediaite.com