Mediaite's Morning Reading List: Strange Obamacare Bedfellows, Mixed Abortion News, and More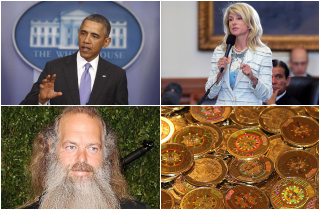 Every a.m., Mediaite publishes a primer of what the interweb machine is writing, talking, tweeting, and blogging about, so that you may fool friends and family into thinking you are a trove of information and insight. Today: how the "fix" to let people keep their insurance is making for some strange political bedfellows, what the manager of California's increasingly successful exchange expects next, the latest in the abortion wars, and more.

In Stance on Renewal of Old Health Policies, States Run the Gamut (New York Times)
The state/federal interplay on the Affordable Care Act just got even more tangled. Last week, President Barack Obama offered a "fix" that would allow customers to keep their cancelled policies, a fix that had an opt-out for state insurance commissioners. States led by blue governors, which are more likely to have state-based exchanges, are by and large opposing the fix, while states with red state governors who have fought Obamacare are welcoming the fix with open arms, making for some strange cross-party bedfellows in an implementation that's already riven by partisanship.
An additional wrinkle:
Many states with low numbers of such cancellations were those that had let insurers temporarily avoid the law's requirements by offering early renewal of existing plans. Those renewals allowed people to keep their existing plans though next year. The goal was to smooth the transition for consumers, commissioners in those states said.

"It turned out to be a good decision," said Mike Chaney, the insurance commissioner in Republican-led Mississippi, who said fewer than 500 people in his state received notice of discontinued policies because he encouraged the major insurers to offer the option of renewing for an additional year.
Covered California's Chief: "We're in the Game in a Very Positive Way" (Charles Ornstein, Healthy Buzz)
Related to yesterday's news that enrollment is surging in California, along with some other state-based exchanges, ProPublica's Charles Ornstein interviews Peter Lee, Covered California's executive director to get a field-level view of the practicalities of implementation. It's a clear-eyed, though certainly optimistic, assessment of how the Affordable Care Act is working, and, more importantly, what's going to happen in the next few weeks. Highly recommended.
Texas Abortion Law Left in Effect (Lyle Denniston, SCOTUSBlog) / Albuquerque Voters Reject Abortion Ban (Irin Carmon, MSNBC)
Mixed news on the abortion front, no matter which side you're on. The Supreme Court let stand Texas' new abortion restrictions—the ones famously filibustered Wendy Davis last summer—meaning the law goes into effect until an appeal in January. The restriction in question would require doctors at clinics performing abortions to have admitting privileges at hospitals within thirty miles, which Planned Parenthood argued would shutter several rural clinics.
Meanwhile in Albuquerque—how often do you get to write that?—voters defeated a ballot measure that would have banned abortion after 20 weeks. Pro-life groups had been optimistic about passing the ban in a blue state and potentially instigating a city-based electoral approach. No such luck this week.
Bitcoin Needs a Central Banker (Neil Irwin, Washington Post)
Wonkblog goes trolling. Don't take it from me: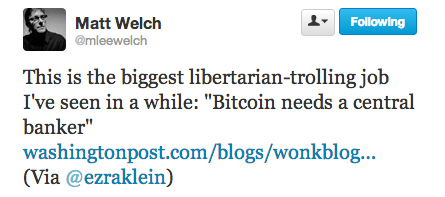 Non-Political Read of the Day: The Wisdom of the Beard: Understanding the Rick Rubin Experience in 2013 (Stephen Hyden, Grantland)
Is legendary producer Rick Rubin a guru genius, a brand huckster, or some of each? Or is this article chasing at an icon's shadows? Either way, a fascinating assessment of the man who brought you Reign in Blood and Johnny Cash's Late Period.
[Image via screengrab]
——
>> Follow Evan McMurry (@evanmcmurry) on Twitter
Have a tip we should know? [email protected]