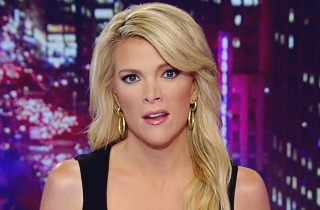 Megyn Kelly really doesn't want to talk about her issues with Donald Trump. For the past few weeks, Kelly has kept to the high road while Trump… most certainly has not.
But according to Politico, Kelly got a bunch of questions at a Cosmopolitan event with editor Joanna Coles today about The Donald and how he's been lashing out at her every week since she dared to ask him tough questions at a debate.
Coles asked Kelly about it a bunch of times, after which the Fox News anchor said, "I don't want to talk about Donald Trump any more, truly. He has captured the attention of the electorate, and huge sections of the Republican base. I think he's a fighter, and that appeals to a lot of people. That appeals to a lot of people, and when he is upset at someone, he fights even harder."
She maintained that the questions were perfectly fair and Trump had perhaps the unrealistic expectations that presidential debate moderators were going to be "nice" to him.
And Kelly had a few other things to say too:
It's: Head down, shoulders back, forge forward … words to live by in a crisis. https://t.co/S4oKvXtYBA

— Megyn Kelly (@megynkelly) September 28, 2015
"Shrill," "strident," "angry," "cold" —@megynkelly says female presidential candidates deal with this criticism in a way men do not #AWXII

— Cosmopolitan (@Cosmopolitan) September 28, 2015
"I really want to talk about those emails." —@megynkelly on what she would ask @HillaryClinton if she were interviewing her tonight #AWXII

— Cosmopolitan (@Cosmopolitan) September 28, 2015
"I don't know what you call yourself when you're not ideologically aligned with either party." —@megynkelly on her personal views #AWXII

— Cosmopolitan (@Cosmopolitan) September 28, 2015
[image via screengrab]
— —
Follow Josh Feldman on Twitter: @feldmaniac
Have a tip we should know? [email protected]
Josh Feldman - Senior Editor