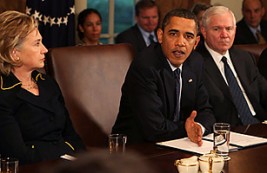 With every big Barack Obama speech — and there have be a number of them since last January! — comes days of media speculation revolving around whatever the current Obama narrative is, and how the upcoming speech might fit into it. Or what Obama has to do in said speech to change the narrative. Or a combination of the two.
During tomorrow's prime time address Obama will announce his new strategy for Afghanistan. This is the first time in many, many months Obama has made any major address that was not about health care. An event that, among other things, pretty much guarantees a change in the narrative. The narrative for the last little while has been what is Obama doing? Answer: not much. The narrative was so strong SNL even turned it into a skit. There are early signs however this may be about to change.
In last week Time's Joe Klein penned a column titled "Obama's 'Mistakes': Way Too Early to Judge" in which he blamed "the media's tendency to get overwrought about almost anything" as the reason for Obama's run of badish press. And further noted that judging Obama's success, "is a long game, which will yield results, or not, over time."
After a first year spent demonstrating a new comity, Obama has gained the global credibility to get tough — on Iran, for example — in his second year. But the real evaluation of Obama's debut must wait for the results of the two biggest problems he's tackling: his decision on Afghanistan and the congressional attempt to pass health care reform. And even here, it will be difficult to render judgment immediately — as difficult as it was to judge Clinton's decision to spend his political capital on deficit reduction in his 1993 economic plan, a triumph that didn't become apparent for nearly five years.
Basically, chill out people he's only been president for 11 months. This pronouncement was followed by an article penned by Jacob Weisberg in this week's Newsweek, titled 'Young Man In A Hurry' (the Slate version is titled 'Obama's Brilliant First Year'):
This conventional wisdom about Obama's first year is sure to be flipped on its head by the anniversary of his inauguration on Jan. 20. If, as seems increasingly likely, Obama wins passage of a health-care-reform bill by that date, he will deliver his first State of the Union address having accomplished more in his first year than any other postwar American president. This isn't an ideological judgment. It's a neutral assessment of his emerging record.
Now if only Glenn Beck would concur that Obama's been getting a raw deal we'd have a consensus. Kidding! But still, the weekly mags may not have the power to determine the conversation they once did, however they are sometimes indicators of which way the wind is going to be blowing. We shall see. A lot depends on the tone Obama strikes in his speech tomorrow night (and whether or not he gets upstaged once again by a stunt), and the sort of numbers he provides to back his goals up, but don't be surprised if you suddenly start seeing Obama being depicted in Herculean terms in the weeks leading up to his first year anniversary.
Related:
Why Losing The Press Is A Win For Obama
Time For Obama To Pitch His Health Care Plan Kanye West-Style
Have a tip we should know? tips@mediaite.com