Michael Moore Changes Tune On Assange Charges, Does Not Directly Address Protest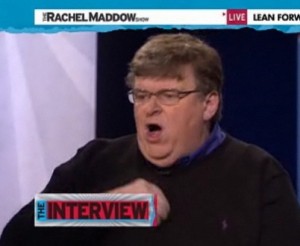 A week after Countdown host Keith Olbermann and guest Michael Moore sparked a Twitter protest over their dismissive treatment of rape allegations against Wikileaks founder Julian Assange, Moore made an appearance on The Rachel Maddow Show that was much anticipated by those protesters. Host Rachel Maddow opened the segment by voicing their central premise, without directly referencing them, and Moore, also without addressing the protest directly, spoke about the importance of taking rape allegations seriously. He did not apologize for his earlier assertion that Julian Assange was only accused of consensual sex with a broken condom, nor did he retract it.

Maddow did acknowledge the #MooreAndMe protest in a post-show blog post, but not as she introduced her guest, Michael Moore, thusly:
The timing could not be more suspicious. The man accused says he's being pursued for political reasons. But even if you're suspicious about the timing, there are two women who went to the police with what are essentially date-rape charges against this guy.

This doesn't fit on a bumper sticker.

Can your suspicion about the forces arrayed against Julian Assange and Wikileaks — your suspicion about the timing and pursuit of these charges — coexist with respect for the women making these accusations against him and with a commitment to take rape allegations seriously, even when the person accused is someone that for other reasons you like?
To be fair to Maddow, she's in a tough spot, as her MSNBC colleague Keith Olbermann emerged as a focal point of the protest, but she should have asked this question directly to Moore. Instead, she asked him to explain, once again, why he posted $20,000 in bail money for Assange. In answering that question, Moore volunteered:
Every woman who claims to have been sexually assaulted or raped has to be, must be, taken seriously. Those charges have to be investigated to the fullest extent possible. For too long, and too many women have been abused in our society, because they were not listened to, and they just got shoved aside. . . .So I think these two alleged victims have to be treated seriously and Mr. Assange has to answer the questions.
This was a sharp departure from the remarks that started the protest, and no doubt directly attributable to it, but it was also a subversion of the premise of #MooreAndMe. The protest derived its name from Moore's debut film, Roger & Me, in which Moore spends the entire film trying to get GM CEO Roger Smith to just talk to him about the harm he'd done. Moore didn't do that, he pretended the whole thing never happened.
As for the goals of the #MooreAndMe protest, while they commendably got Moore to change his rhetoric, there's still apparently work to be done:
Please tweet @MMFlint, using the hashtag #Mooreandme, until we have an explanation from Michael Moore, and preferably an apology, and preferably $20,000, donated to an anti-sexual-assault organization of his choice.

You told us the little guy had to stand up, Mr. Moore. You told us the authority had to be held accountable for harming communities. You told us that the Big Lies were worth exposing. But you're promoting the Big Lie, you're harming our community, and this time around, the little guy is us.

We can be loud. We can be persistent. I hope you're prepared.
The balance of the interview featured some smart, tough questions from Maddow over Moore's Assange idolatry. Here's the full interview, in two parts, from MSNBC:
Part Two:
Have a tip we should know? tips@mediaite.com