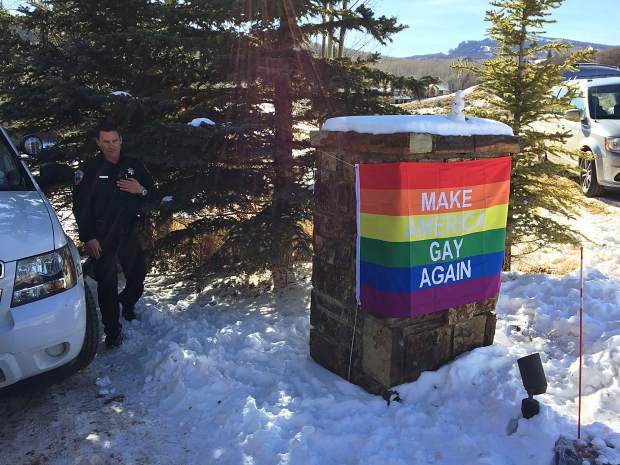 Vice President Mike Pence and his wife have spent the past week at their residence in Aspen, Colorado. Their neighbors wanted to give the veep a message during his stay.
As reported by The Aspen Times, a banner reading "Make America Gay Again" was placed on the stone pillar that is at the end of the driveways of both homes. "You couldn't miss it," Pitkin County Sheriff's Deputy Michael Buglione told the Times.
According to Pitkin County Sheriff Joe DiSalvo, the person who came out to drape the banner on the pillar was "real sheepish" at first. However, after the Secret Service told him they weren't there to control his "free speech rights," the residents came out with chili and fed the police officers and agents on duty.
While the residents didn't respond to a knock on the door from the Times, a woman sent them an email to clarify one thing.
"(The banners) were actually hung by the daughters of the couple who live in the home, and one of their girlfriends (I'm one of them!) with the full support of their parents," Shannon Slade wrote in the email.
This isn't the first time that Pence has been greeted with LGBT pride messages. After Trump was elected, DC residents welcomed him to the neighborhood by flying pride flags.
Prior to becoming vice president, then-Indiana Governor Pence signed a religious freedom bill into law in 2015, only to issue a clarification after the state was threatened with widespread boycotts over concerns the law discriminated against the LBGT community.
Pence's Christian conservative views are so well known that the New Yorker reported back in October that the president once joked that Pence 'Want to hang" gay people.
[image via Twitter/@TheAspenTimes]
—
Follow Justin Baragona on Twitter: @justinbaragona
Have a tip we should know? tips@mediaite.com