Misleading The Blaze Headline Appears To Attribute Racist Quote To Alec Baldwin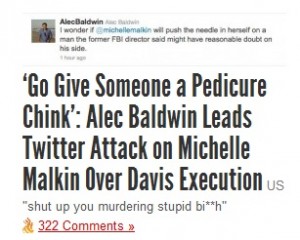 Earlier today, we reported on the Twitter war of words between actor Alec Baldwin and fiery conservative pundit Michelle Malkin, sparked by Malkin's mockery of Baldwin's activism for the late Troy Davis, and escalated by the actor's return volley. Along the way, Malkin retweeted several vile messages that came, not from Baldwin, but from other users angry with her. Readers of The Blaze, however, might come away with the impression that Baldwin tweeted a racist attack on Malkin, if they didn't look too closely.

Tensions were running high last night, as many people awaited news of now-executed Troy Davis' fate, so when the never-shy Malkin tweeted some ridicule at Alec Baldwin (she tweeted "Waiting for Hollyweirdo @alecbaldwin 's "I am Troy Davis" tweet…), Baldwin responded by asking followers to tweet "that great thinker @michellemalkin and ask her what killing a potentially innocent man does to make you safer."
He followed up by calling her a "world class, crypto fascist hater," which is confusing, because who doesn't hate world class crypto fascists?
In any case, Malkin began to retweet some inexcusably vile, racist, and even threatening tweets she received after Baldwin's tweet, one of which ended up in The Blaze's headline, which reads:"'Go Give Someone a Pedicure Chink': Alec Baldwin Leads Twitter Attack on Michelle Malkin Over Davis Execution."
The offending tweet isn't explained anywhere in the body of the piece, appearing only in the form of a screenshot in the middle of a torrent of Malkin retweets. It's also worth noting that the person who made the tweet in question was not one of Baldwin's followers. The headline strongly suggests, if not explicitly says, that the racist tweet was sent by Baldwin, and the accompanying post does little to clear that impression up.
Trying to pin unhinged, anonymous tweets (or comments) on a big name is nothing new, but it's a weak move. On the other hand, Baldwin later tweeted the too-ambiguous sentiment, "Right-wing bashing is the most American thing you can do."
He also continued to go at Malkin this morning, tweeting, "I wonder if @michellemalkin will push the needle in herself on a man the former FBI director said might have reasonable doubt on his side."
Whatever lines you think Baldwin crossed, though, he didn't make that racist tweet, nor any of the inexcusably violent, racist tweets that Malkin passed along to her followers.
Update: The Blaze has updated their headline to read "'GO GIVE SOMEONE A PEDICURE CHINK': ALEC BALDWIN FANS ATTACK MICHELLE MALKIN OVER DAVIS EXECUTION," although there's no evidence in the article, or the Twitter timeline, to suggest that the person who sent that tweet is a fan of Alec Baldwin.
Have a tip we should know? tips@mediaite.com