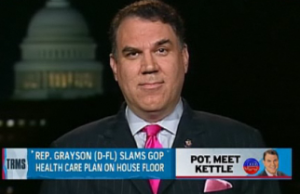 While direct comparisons between Rep. Alan Grayson's (D-FL) now-infamous "Die Quickly!" screed and Joe Wilson's "You lie!" don't hold much water, the two incidents do share one thing in common.  They have both given new meaning to the phrase "money quote."
Grayson wasted no time in putting up a fundraising plea at Daily Kos, one that has raised over $70,000 so far.  He has also spent the hours since then doubling, tripling, and googlpling down on his remarks to anyone who will have him on.  The phone at Grayson's office is ringing off the hook, and when I reached them, they declined to give an updated estimate.
You may remember that Joe Wilson started out in the hole against his Democratic opponent immediately following his "You lie!" outburst before a Joint Session of Congress, but soon, Republican satisfaction at his actions surpassed Democratic outrage.  In the end, both candidates benefited greatly from the incident.
The Republican National Congressional Campaign Committee is hoping they can surpass the Democrats' oppo-fundraising feat, and have set up an anti-Grayson website called "AlanDisgrayson.com" to raise money for his eventual opponent.  A source within the NRCC ballparks the amount raised from the site at a couple hundred dollars, but says that the site went live late yesterday, and he expects it to get much more promotion today
Despite a resolution to admonish Wilson, and a threat (later dropped) of a resolution against Grayson, fundraising numbers like these provide little impetus for politicians to hold their tongues.  To paraphrase an old expression, "Money talks, civility walks."
Grayson explained his comments on Rachel Maddow last night:
Have a tip we should know? tips@mediaite.com