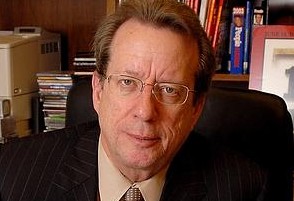 Keith Kelly writes in his NY Post column about the sudden and mysterious disappearance of Time Inc. Editor-in-Chief John Huey's name from the masthead of Time Inc. shelter title Real Simple. In the oddly titled "Huey goes kerflooey," Kelly surmises that this is evidence of a larger feud between Huey and Time Inc. Executive Vice President Sylvia Auton, who oversees Time Inc.'s Lifestyle Group (which includes Real Simple among other shelter titles.) Sources close to the situation tell Mediaite that this couldn't be further from the truth.
Kelly writes :
TIME Inc. Editor-in-Chief John Huey's name used to sit proudly atop the masthead of Real Simple. Not anymore.

Huey's name appeared above the title through the February issue, but was not in March or April.

Some insiders say that's public evidence of a feud between Huey and Time Inc. Executive Vice President Sylvia Auton over the separation of church (editorial) and state (business).
To be fair, later in the piece, Kelly adds that sources at Time Inc. have essentially claimed that this is no big deal, but Kelly also insists that this means a "smaller dominion for Huey," and uses that to imply that its somehow symptomatic of a larger tension between Auton and Huey.
While it is true that Huey has one less magazine with his name on it, this is hardly news — Real Simple became part of the Lifestyle Group when Time Inc. announced a restructuring back in the Fall of 2008. Further, Huey's name had never been on the masthead of other shelter titles (that now are also under Auton's direction.) Since the editorial team at Real Simple had not reported to Huey for almost two years, it was decided at the end of the last year for the masthead to finally reflect the corporate structure at Time Inc.
It's hard to imagine Huey losing much sleep over losing his name from the Real Simple masthead; he still oversees the News Group (which includes Time, Fortune and Sports Illustrated among others) and, contrary to what we've reported before, insiders insist that he still very much oversees the Entertainment Group (which includes People and Entertainment Weekly among other titles.)
Keith Kelly's place in New York media coverage is legendary – and while one could debate the evolving influence of a writer still tied to a print publishing schedule — no one has a better sense of the publishing hierarchy, and what is newsworthy than he. In this case however, he seems to be guilty of overreach in breathlessly reporting a story where there really is none.
Have a tip we should know? tips@mediaite.com