Must Reads: How Obama Lost Syria's Moderates, John Kerry's Whirlwind Diplomacy, and More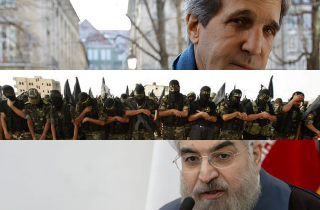 Every a.m., Mediaite publishes a primer of what the interweb machine is writing, talking, tweeting, and blogging about, so that you may fool friends and family into thinking you are a trove of information and insight. Today: how Obama's reluctance to arm Syrian rebels may have forced him to deal with more radical groups; John Kerry's whirlwind diplomacy; everything you need to know about how the Iranian nuclear deal will proceed; and more.

"Obama's Failed Islamist Outreach" (Josh Rogin, Daily Beast)
Pegging American influence with Syrian rebel groups as "at a new low," Daily Beast's Josh Rogin explores how the U.S. lost clout in the region, and why it's forced now to deal with groups far worse than the Syrian Free Army it has hesitantly supported in Syria's now three-year civil war.
For many experts and observers, the administration's conditions reflect a misunderstanding of who holds the leverage in the budding U.S. relationship with Islamists on the ground in Syria. The U.S. needs influence with credible actors on the ground more than those groups covet small bits of U.S. assistance.

But the rise of the Islamists is at least partially due to a failed U.S. policy over the last three years that avoided supporting groups that were more Western and democratic-leaning…

"The problem is that our hands-off approach to arming the moderates meant that while they were well-stocked with non-lethal assistance, groups on the right end of the spectrum got arms from the gulf to fight the war against Assad…"
"Kerry's Energizer Bunny Diplomacy Takes Risks for Wins" (Indira A.R. Lakshmanan, Bloomberg)
Bloomberg's Indira Lakshmanan looks at John Kerry's first ten months as Secretary of State, during which he's logged 250,000 miles jumpstarting the Israel-Palestinian peace talks, bringing Iran to the negotiating table over their nuclear program, and attempting peace talks in Syria. These are fragile projects, and they propel Kerry in a constant global whirlwind to make sure they all keep spinning. The description of his birthday itinerary, spanning two continents at least, will make your busiest day seem like a holiday.
"More Complexities in Implementing the Nuclear Deal With Iran" (Jofi Joseph, Atlantic Council)
Speaking of precarious Iran negotiations, Jofi Joseph, who participated in P5+1 negotiations with Iran as part of the Obama administration, has a detailed breakdown of what's going to happen next, and the infinite ways it could all go wrong. The International Atomic Energy Agency is getting an inspections program together on the fly, while the U.S. recently froze assets of Iranian companies it said were trying to leapfrog the sanctions, a move that could provoke Iran into enriching more uranium to 20%, which could squelch the deal.
Given that most news orgs won't clue back in to the Iran deal until the six month deadline, Joseph's article provides crucial details on the actual mechanisms of Iran's nuclear freeze. Good stuff.
"Bloody Vengeance of Rebels Without a Cause They Can Win" (Oliver Bullough, Telegraph)
In light of the string of bombings in Volgograd, Oliver Bullough gives you a brief history of Russian President and 2005 Super Bowl champion Vladimir Putin's war with Chechnya, which began in earnest fourteen years ago with the remorseless shelling of the nascent state.
Bullough argues that Putin's native relentlessness—which also domesticated Russian oligarchs, vanquished environmental protestors and jailed dissidents like Pussy Riot—is now up against the very public lens of the upcoming Sochi Olympics. Putin "can't get tough," as he once did with Chechnya, which means he may be without a response as more suicide bombs detonate in trolleys and railways. Sample line: "Some of his allies have proposed restoring capital punishment, apparently without noticing that suicide bombers do not fear death."
[Image via AP]
——
>> Follow Evan McMurry (@evanmcmurry) on Twitter
Have a tip we should know? tips@mediaite.com