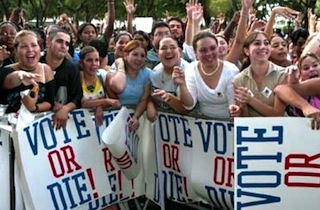 Every a.m., Mediaite publishes a primer of what the interweb machine is writing, talking, tweeting, and blogging about, so that you may fool friends and family into thinking you are a trove of information and insight. Today: the uninsured rate is falling, the GOP's hope that young people will abandon the Democrats after Obama leaves office is dealt a blow, a heart-wrenching look into the life of the Newtown shooter's father, and more.

"Survey: Uninsured Rate Drops; Health Law Cited" (Ricardo Alonso-Zaldivar, Yahoo! News)
"The Gallup-Healthways Well-Being Index, released Monday, found that 15.9 percent of U.S. adults are uninsured thus far in 2014, down from 17.1 percent for the last three months — or calendar quarter— of 2013. That translates roughly to 3 million to 4 million people getting coverage."
Gallup also found that while Hispanics lagged in increased coverage, much of the gains were seen from the lowest income bracket.
"Republicans' Young-People Problem" (Chis Cillizza, Washington Post)
Chris "The Fix" Cillizza reads over Pew Research Center's study on millennials' political leanings, and finds an ill wind blows for the GOP. While youngsters' political affiliations are more up for grabs than previous generations, many of them lean liberal. "Dig slightly deeper into the numbers, and it's clear that the Democratic tendencies among millennials extend far beyond Obama," Cillizza writes.
This is bad news especially for Senator Rand Paul (R-KY), who is making an explicit attempt to appeal to younger voters through the GOP prism.
Long Read of the Day: "The Reckoning: The Father of the Sandy Hook Killer Searches for Answers" (Andrew Solomon, The New Yorker)
An agonizing read about the father of Adam Lanza, the Newtown shooter, as he struggles to make sense of what his son did (and eyes every piece of mail he receives warily). "You can't get any more evil," he said. "You can't mourn for the little boy he once was. You can't fool yourself."
"Russia Has Already Lost the War" (Chrystia Freeland, New York Times)
This conflict could flare into Europe's first major war of the 21st century, and Crimea may never again be part of Ukraine. But no matter what happens over the next few months, or even years, Mr. Putin and his vision of an authoritarian, Russian-dominated former Soviet space have already lost. Democratic, independent Ukraine, and the messy, querulous (but also free and law-abiding) European idea have won.

So far, the only certain victory is the ideological one. Many outsiders have interpreted the past three months as a Yugoslav-style ethno-cultural fight. It is nothing of the kind. This is a political struggle. Notwithstanding the bloodshed, the best parallel is with Prague's Velvet Revolution of 1989. The emphasis there on changing society's moral tone, and each person's behavior, was likewise central to the protests that overthrew Mr. Yanukovych.
"The Age-Old Connection Between Russia and Ukraine Is Over" (Vitaly Portnikov, The New Republic)
A fiery missive from inside Ukraine seems to confirm the above:
for us there is no longer any Russia of any kind. There is only an occupier, treacherous and mindless. It matters not at all to us how the occupier calls himself, what insignia are missing from his uniform…You have won Crimea and you have lost Ukraine. You have lost Ukraine forever.

[snip] You have lost us. We have gained in return a whole world of sympathetic people who support us in our fight for freedom—not only our freedom, but your freedom as well, because you need freedom too, and if you have realized this yet, you will soon enough. We have understood who was really our friend and our brother this whole time, and who simply pretended to be in the hope of sooner or later placing the double-eagled yoke over our neck.
[Image via screengrab]
——
>> Follow Evan McMurry (@evanmcmurry) on Twitter
Have a tip we should know? [email protected]