National Enquirer Tops Gossip Cop's 2016 List With Most Inaccurate Entertainment Stories.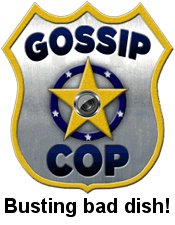 Fake news isn't a new phenomenon. Like we've told you before, it has its roots in the insidious nature of celebrity gossip magazines. The general public has allowed entertainment writers to lie for so long that it's not really shocking that political and current events writers took notice. For years, our friends at Gossip Cop have been out there on the front lines fighting against entertainment news lies, which is worth study from other journalists as we move forward into a media environment in which we'll need to accurately identify and push back on fake news more and more.
Today, Gossip Cop identified the National Enquirer 2016's worst offender when it came to fake celebrity news.
Interestingly, they busted 2,404 stories last year, which is almost a 60% increase over 2015's 1,504. 335 of those false stories belonged to the Enquirer.
No matter what Geraldo Rivera thinks, the fact that the Enquirer made up so many of those stories isn't that surprising. They are, after all, the ones responsible for the stories about Ted Cruz's alleged harem of mistresses and connection to John F. Kennedy's murder in the spring and the ones about Hillary Clinton's supposed "hitman" and health problems in the fall.
They're even getting a head start on securing the honor in 2017: their latest issue published a fake photo of an allegedly dead George Michael.
Gossip Cop ended their full report on 2016's worst fake story offenders with this:
The number one tenet in journalism, no matter what the area covered, is accuracy. Entertainment reporting is not always so serious, and can at times be salacious, but none of this should be at the expense of fact-checking and truth-telling.
To see the whole thing, click here.
[image: screengrab]
Have a tip we should know? tips@mediaite.com