NBC News Stopped Gay Rights Group From Releasing Chelsea Clinton Ad, According To Report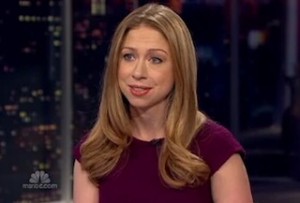 If you're part of a political family and a paid employee of a news network, how do you strike that balance? Chelsea Clinton was not on the campaign trail this time around because she was hired by NBC News last year to be a correspondent on the network's "Make A Difference" series. That did not stop Clinton from filming a video for a group fighting to legalize gay marriage in Washington (which ultimately passed on election day). The video never saw the light of day because NBC News, according to a report by BuzzFeed, killed it.
RELATED: Feeling Your Pain: Chelsea Clinton Files First Segment As Reporter On NBC's Rock Center
Clinton has been a very vocal voice for gay rights in the past, but when she made the video, NBC stopped the gay rights group from airing it because of her position at the network.
Clinton, a vocal proponent of marriage equality, cut the video for a group supporting the Washington state measure, as well as a second video for another group. But NBC, for which Clinton works as a "special correspondent" since last November, "scuttled" the campaign, sources familiar with the ads said…

Three people who saw the videos confirmed their existence to BuzzFeed. They were fully prepared, with the script approved in advance, one source said. The video wasn't intended for TV broadcast, a second source said, suggesting they were instead to be used as web-based videos. The source added that multiple efforts had been intended beneficiaries of the former First Daughter's support.
It is unclear at this point why Clinton filmed the ad despite her NBC News contract. The video would have gone to benefit the gay rights fight in Washington and social media site TheFour.com.
Have a tip we should know? tips@mediaite.com
Josh Feldman - Senior Editor