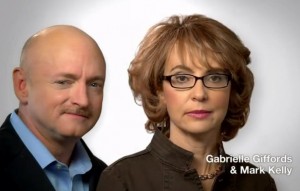 On the eve of President Obama's State of the Union address, Americans For Responsible Solutions has released an ad starring their co-founder, former Congresswoman Gabby Giffords (D-AZ), in which the heroic survivor of the Tucson mass shooting says "There are solutions we can agree on" to reduce gun violence, and urges Americans and lawmakers "Let's get this done!"
The ad, which is set to air during the President's State Of The Union speech, specifically references the overwhelming public support for universal background checks, but none of the other legislative proposals to emerge from the President's Joe Biden-led task force on gun violence, such as a ban on assault weapons and high-capacity magazines.
The ad powerfully overlays images of mass shooting sites Aurora, Tucson, Oak Creek, and Newtown, with Giffords' narration that "We have a problem… where we shop, where we pray, where our children go to school."
"But there are solutions we can agree on," Giffords says, over a graphic touting 92% support for universal background checks, adding, over a static shot of herself and husband Mark Kelly, "even gun owners like us."
"Take it from me," Gabby continues, directly to camera, "Congress must act. Let's get this done."
The ad is extremely effective, and its placement during the State Of The Union address figures to amplify that effect, but it is a sad commentary on the state of this debate that 92% approval is the new bar for maybe getting something past a craven Congress. When the assault weapons ban expired in 2004, 72% of Republicans favored extending it.
President Obama's State Of The Union address presents an opportunity to refocus the nation's attention on sensible gun regulation, and both sides of the issue will watch, carefully, for clues as to the President's level of commitment to tougher measures like the assault weapons ban. Whatever he says, he will be looking Gabby Giffords in the eye when he says it.
Have a tip we should know? tips@mediaite.com