New Jersey Assembly Candidate Drops Following Discovery of Racist, Homophobic Book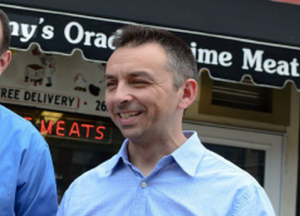 A former New Jersey assembly candidate has dropped out of the race and resigned from his city council position following the discovery of a book of satire he authored in 2003, which contained offensive sexist, racial and homophobic slurs.
Anthony Cappola submitted his resignation to River Edge Mayor Sandy Moscaritolo on Friday, according to The Record. The Republican city council member and former state assembly candidate dropped out of the election last Thursday following the insistence of his running mate, Mark DiPisa, as well as local and state-level Republicans.
Titled Outrageous!, the 223-page book makes use of a wide variety of derogatory terms to identify, describe and argue against everything from immigration and the sexual activities of homosexuals, to public breastfeeding and Jews. As Talking Points Memo notes, the extended rant also contains "many spelling and grammatical errors."
POLITICO New Jersey got their hands on a copy of the book and published a few excerpts:
"HELLOOOOO!!!!!!!!!!! You live in A M E R I C A!!!!!!!!" Cappola wrote. "Write and try your dam best to learn and USE ENGLISH!!!!! If your not going to advertise your business by putting your store signs in ENGLISH, than giving the American people, (including yourselves, because many of you are AMERICAN.) a slap in the face with that foreign writing bull!!!!"
"That's why people can't stand fags, it's not because they're homosexual, but because they have telegraph it just incase you didn't know they were homos!!!!!! … And NO, I am not HOMOPHOBIC. The only person I fear is GOD, and that's the truth!! And I don't hate homos, I understand that they have a problem and can choose to get help if they want."
In an official statement to the press, Cappola said that he was "sorry if I offended anyone and deeply regret what was written. I am not the same person I was twelve years ago, but I take responsibility for what I wrote and have chosen to bow out of the race."
At least his Amazon reviewers (all five of them) in 2003 enjoyed the book. Even though, as the writer of the lowest rating put it, Cappola was "childish" and should "use spell check next time."
UPDATE–9:53 a.m. ET: Per a reader's suggestion, attribution for the excerpts and original story has been fixed.
[h/t Talking Points Memo]
— —
>> Follow Andrew Husband (@AndrewHusband) on Twitter
Have a tip we should know? tips@mediaite.com