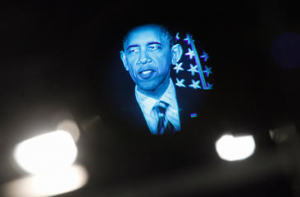 In 2008, the Obama campaign seemed to re-invent modern elections with their success in new media–raising cash, organizing supporters and channeling them to the polls. As President Obama gears up his 2012 re-election campaign, he's turned back to the tried and true for presidents seeking four more years: TV interviews. Gloria Goodale, writing in The Christian Science Monitor, says it's notable that the guy who "made his name in new media during the 2008 election cycle, is burnishing some old media tools this time around."

As Goodale points out, Obama has given interviews to a dozen local television stations over the past two months–including four one-on-one interviews with reporters from Denver; Raleigh, N.C.; Dallas; and Indianapolis. "These cities are in states that could be important in the 2012 election, say political strategists." And, unlike sending text messages to supporters and building a web-based grassroots fundraising system, it's old-school: presidents using the allure of a presidential interview to get major media time–for free, of course–in key states. Bush 41 did it, Clinton did it, they all do it. Only this time, there will be an Obama style social media twist:
Local media strategies will be key to both sides in the 2012 election, says media expert Jonathan Askin at Brooklyn Law School. While the old truism that all politics is local may not always be true for presidential races, he says, it will be this time.

The difference is social media, he says. "With old media tools, local press, radio and TV, it was difficult for a candidate to wage a nationwide, local strategy …," he says via e-mail. "The Internet finally makes local campaigning, with national themes and local messaging, effective for presidential politics."

Social-media entrepreneurs and strategists have figured out how to harness the Internet for hyperlocal purposes, he adds.
Read the full story at CSMonitor.com.
Have a tip we should know? tips@mediaite.com