New Poll Numbers Show Elizabeth Warren is Far From Certain to Win Reelection in 2018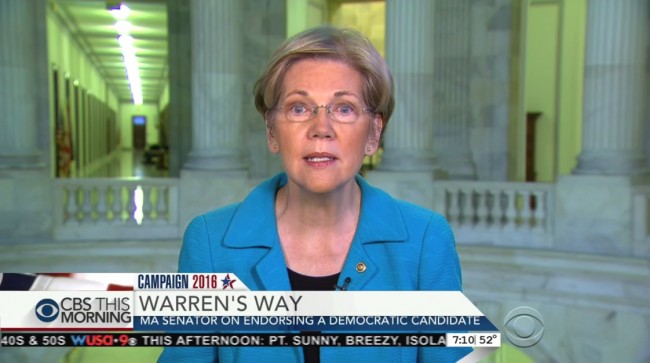 With the democratic party in search of new leaders, many pundits have mentioned Senator Elizabeth Warren (D-MA) as a possible standard bearer for the party going forward. But some new polling suggests she may have difficulty hanging on to her seat in 2018.
According to a new survey from Boston NPR affiliate WBUR, Warren's approval in the state currently stands at 51 percent, compared with 37 percent who do not approve of her job performance. Though down 11 percent from April 2015, the approval ratings may not, in itself, represent any cause for alarm. But several other numbers from the poll may stoke concern among democrats, who already face a daunting Senate map in 2018.
Survey participants were asked: "As of now, do you think Elizabeth Warren
deserves reelection or is it time to give someone else a chance?" Forty-six percent answered "give someone else a chance," compared with 44 percent who responded "deserves reelection."
Further, the man prominently mentioned as a prospective opponent enjoys significantly higher ratings. Fifty-nine percent of respondents approve of the job Republican Governor Charlie Baker is doing. Only 18 percent disapprove. And when the same question was posed about Baker, whether he deserves reelection or someone else should get a chance, reelection won out by a 51-29 margin.
Democrats are on the defensive big-time in 2018, having to defend 23 seats (plus two independents who caucus with the democrats), compared to just eight for the republicans. Reclaiming control of the chamber is probably out of the question for the democrats during the midterms, but hanging on to Warren's seat could be crucial in making sure republicans don't reach a filibuster-proof majority. And, of course, there's the fact that Warren has become one of the party's most prominent voices.
The good news for Warren is that Baker has not committed to running against her. It's possible that, instead, her general election challenge could come from former Boston Red Sox pitcher Curt Schilling — who hosts a show on Breitbart, and declared his candidacy in October.
Have a tip we should know? tips@mediaite.com
Joe DePaolo - Senior Editor