New Polls Suggest President Obama's 'Evolution' Moving The Needle On Gay Marriage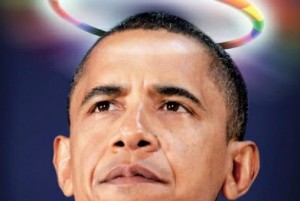 After being the hot topic for a week and change, President Obama's Biden-aided evolution on gay marriage finally ceded the foreground to The Battle of Bain. While polling in the wake of the President's announcement of support for gay marriage showed little gain for him politically, several new polls suggest that the cause of marriage equality has been given a nice head of steam by Obama's evolution revolution.
A just-released Public Policy Polling survey shows a significant shift among Maryland voters' support for that state's same-sex marriage referendum:
A new Public Policy Polling survey in Maryland finds a significant increase in support for same-sex marriage among African American voters following President Obama's historic announcement two weeks ago. The referendum to keep the state's new law legalizing same-sex marriage now appears likely to pass by a healthy margin. Here are some key findings:

-57% of Maryland voters say they're likely to vote for the new marriage law this fall, compared to only 37% who are opposed. That 20 point margin of passage represents a 12 point shift from an identical PPP survey in early March, which found it ahead by a closer 52/44 margin.

-The movement over the last two months can be explained almost entirely by a major shift in opinion about same-sex marriage among black voters. Previously 56% said they would vote against the new law with only 39% planning to uphold it. Those numbers have now almost completely flipped, with 55% of African Americans planning to vote for the law and only 36% now opposed.
Nationally, a Washington Post/ABC News poll shows 53% of Americans in favor of legal same-sex marriage, with significant movement among black voters:
The poll also finds that 59 percent of African Americans say they support same-sex marriage, up from an average of 41 percent in polls leading up to Obama's announcement of his new position on the matter. Though statistically significant, it is a tentative result because of the relatively small sample of black voters in the poll.
The President's influence is also evident in the NAACP's recent decision to back marriage equality, which, in turn, likely has some influence in these polling numbers.
The news here is welcome, but should still be kept in perspective. There has been a campaign in some media circles to frame black public opinion as a major obstacle to marriage equality, which is no more true today than it ever was.
Additionally, while the President took criticism for not making his announcement before North Carolina voted to pass a law banning gay marriages and civil unions, if his decision continues to result in a groundswell of support for marriage equality, that loss could become a wider victory.
At issue now is how marriage rights should be decided. President Obama has made statements that most people have interpreted as support for having states handle marriage issues, but which, upon closer examination, might simply be acknowledgement of the current landscape. Rather than endorsing states' rights, the President appears to be trying to thread the needle, to show support for marriage equality, without freaking out those who might be on the fence but persuadable.
For several weeks, I've tried to get the White House to clarify the President's position on marriage as a state issue, but they have chosen not to comment.
Have a tip we should know? tips@mediaite.com