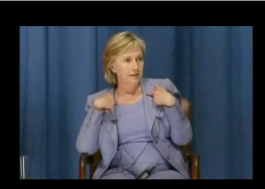 The plot thickens! The New York Times has done some digging regarding Secretary of State Hillary Clinton's debacle in the Congo earlier this week and smells a rat. The story that was initially picked up by everyone in the media, including us, was that during a Q&A a male student's question had been mis-translated making it sound as though he were asking "what does Mr. Clinton think, through the mouth of Mrs. Clinton." Later the student told Mrs. Clinton that he had been mis-quoted. The NYT says not so fast! They say the translation of the question from French was quite accurate.
By the time this video made its way to the attention of most viewers in the United States, though, it was packaged in reports, like one from Kirit Radia of ABC News, stating that "apparently the translator made a mistake." On Tuesday Mr. Radio reported: "A State Department official tells ABC News the student went up to Clinton after the event and told her he was misquoted."

It always seemed unlikely to The Lede that a translator working for Mrs. Clinton would make such a large error with a question asked in French, and my colleague Jeffrey Gettleman reports in Thursday's New York Times that "further inspection of the audio recording of the event indicated that the translation was fine; the student had indeed said 'Mr. Clinton.' " A second reporter traveling with Mrs. Clinton, a friend of your Lede blogger's who is a magazine journalist, said the same thing in an e-mail exchange on Wednesday night, that the student "did ask the question that way: 'the mind of Mr. From the lips of Mrs.' "
Change things? The Times suggests that in this new light, and considering Clinton is in a middle of an important trip to Africa the main purpose of which is to highlight the plight of women on the continent, the reaction is more understandable and Clinton may have got a "raw deal" from commentators in the West. I still don't think so. In fact I think this new version of the events only further highlights the opportunity Clinton missed by snapping back, and turning what could have been — in the phrase du jour — a "teachable moment" into a cable news highlight. In the meantime, via The Lede, here is a link to the Secretary of State's travel diary; video from her remarks regarding attacks on women in the Congo, also from during Monday's forum, is below.
Have a tip we should know? tips@mediaite.com