Newt Gingrich Becomes First GOP Candidate To Officially RSVP To Donald Trump Debate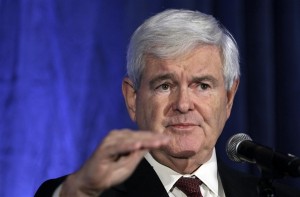 Both Jon Huntsman and Ron Paul declined their invitations to the Donald Trump-moderated Newsmax debate on December 27th, and many pundits have criticized the choice of Trump as moderator (including Mediaite's own Colby Hall). Many wondered if any candidates would actually go to the debate, but during his visit to Staten Island yesterday, Republican frontrunner Newt Gingrich told reporters he would definitely be in attendance.
Gingrich's reasons for going to the debate basically boil down to the Donald's very presence. In fact, Gingrich's visit to New York will be marked tomorrow by a meeting with the Donald himself.
"I would want to go just for the entertainment value… I can't imagine what a debate hosted by Donald Trump would be like."
RELATED: Andy Levy Congratulates GOP On Trump Debate: 'Moderated By A Crazy Birther'
Gingrich's meeting tomorrow with Trump will be held at Trump Tower, and he will be seeking the Donald's "advice and endorsement." So it was no surprise the candidate admitted he was an admirer of the millionaire reality show star, and his RSVP is one hundred percent sincere.
"It'd be like if Bill Gates called and said, 'Hi, I'd like to host a debate.' The correct answer would be, 'Yes.' You wouldn't say, 'Hi, I gotta check my calendar."
So far, no other candidate has indicated their willingness to participate in the debate. But Michele Bachmann is likely to accept, given that on Fox News last week she threw out Trump's name as a potential running mate. Former GOP frontrunner Rick Perry has not responded either, but he did have a high-profile meeting with Trump several months ago so it's possible he may still be seeking Trump's endorsement too.
h/t msnbc.com
Have a tip we should know? tips@mediaite.com
Josh Feldman - Senior Editor