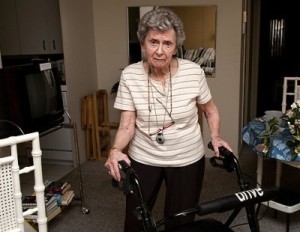 Not a lot of people are fans of the TSA security procedures, and if you are one of those people, this story is probably not going to assuage your concerns. The agency is now actively denying claims being made by an elderly woman that she was brought aside by TSA agents and strip-searched as part of her screening process.
Lenore Zimmerman, a Long Island resident, was traveling to Fort Lauderdale and requested that she not be subjected to the invasive screening process out of concerns it would react negatively with her defibrillator. But instead of just a regular old pat-down, Zimmerman explained to the New York Daily News she was brought into a private room for something more invasive.
"They took me into a private screening room and pulled my pants down and then pulled down my underwear," the 4-feet-11 Zimmerman said. "If that's not strip-searching, I don't know what else you'd call it."
Zimmerman requested a pat-down and this is what she got. TSA officials are completely denying the incident took place, and insisted that "proper procedures were followed." Their comments infuriated Zimmerman, who insists the incident did happen, and promised to file charges against them for what happened to her.
"They're lying to protect their a– because they're afraid of being sued — and they will be sued… Why would I make up this story? In my wildest dreams, I couldn't think of such a thing happening."
She becomes the latest person to be singled out by TSA agents in a year that's seen a cancer patient, an African-American woman, and Donald Rumsfeld singled out for pat-down procedures.
Have a tip we should know? tips@mediaite.com
Josh Feldman - Senior Editor