Newt Gingrich Tells Georgetown Student And Disgruntled Former Janitor Work Has 'Inherent Dignity'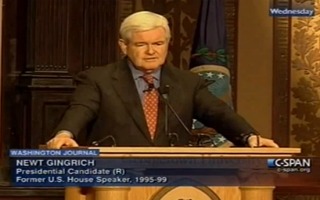 While taking questions from students at Georgetown University on Wednesday, former House Speaker Newt Gingrich was challenged by a student who was offended by the Speaker's suggestion that kids should be allowed to perform janitorial duties at their schools.
"Back in high school, I was a janitor at my old high school," said the student, identified as Hector Cendejas. "For me, it was embarrassing to be a janitor at my old high school because of all the other rich kids. I was poor. My mom was working super hard. I did not feel empowered by serving my classmates. Why not invest on these kids who work for law firms, hospitals and get paid to develop better skills?"
RELATED: Newt Gingrich And Juan Williams Rumble Over Proposed 'Child Janitors' Claim

Gingrich maintained his composure throughout the challenging question, but had this premise come from Juan Williams, he may have responded with more indignation than he did.
"Look, I'm all for doing that but I would also ask you the question – did you find it useful financially to earn the money," Gingrich asked. "Is there a reason you were doing it?"
The questioner responded, "I needed to help my mom. She was a single mom. Also my parents [were] undocumented. So for me it was a struggle." Cendejas went on to describe how lucky he was to be able to attend a better school and later received a scholarship to attend Georgetown University. "All my friends, they're pregnant, in gangs, in jail. And we did the same job, you know, working as janitors. So for me, your remark was a little offensive to me." Cendejas concluded.
"I'm sorry if you were offended," said Gingrich. "Both of my daughters worked as janitors at the local Baptist church and they earned the money, and they didn't think it was demeaning and they actually like the idea that they earned their own money as kids and they kept the money because they thought that work had an inherent dignity."
In November of last year, Gingrich suggested that schools should open light janitorial work to kids who want to earn extra money after school because it would help them develop a "work ethic." Critics of the proposal equated it with advocating child labor and suggested that Gingrich's suggestion betrayed his insensitivity towards the working poor who do poses a work ethic but are have less opportunity.
Watch the video below via CSPAN:
Have a tip we should know? tips@mediaite.com