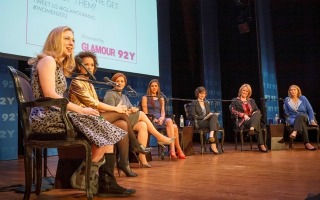 Who: Nicolle Wallace, Abby Huntsman Livingston, Sandra Fluke, Christine Quinn, Amy Holmes, Stephanie Schriock, moderated by Chelsea Clinton
What: Glamour's "Running in Heels: Where are the Women Candidates for 2012 – and How Can We Get More of Them?"
Where: 92Y
When: March 28, 2012
Thumbs: Up
We've never seen so many panelists nod along with another person's comments. We've  also never seen them be so cordial to one another that they waited their turn to speak. The discourse on this night was noticeably different from other political panels we'd seen. The temperament echoed the points that these women hoped to stress — that the best way to change the system or the conversation is through respect, patience, and diplomacy.
Chelsea Clinton kicked off the event by posing the question of whether women were being left out of politics because they weren't having the right conversation or whether they simply weren't being loud enough. Former political advisor Nicolle Wallace believes that the only way to achieve real progress for women is to step back and assess the impact that the 2008 election cycle had on America and equal rights. We had a national discussion about race, she noted, but the treatment of Sarah Palin among others leaves us with unresolved issues.
Some of those issues flared up this winter when Sandra Fluke arrived on the political scene. Fluke said that she hopes that her story will help empower women to fight back against their attackers. But it's not always a public figure who stands in your way, pointed out Abby Huntsman Livingston. For her, it was her father's strategists on the campaign trail who warned Abby that she and her sisters could be a liability if they were too vocal and visible. So they decided to go at it on their own, using social media to propel their father, Jon, into the limelight. She said that they felt they had nothing to lose.
The panel agreed on most points, but it was Stephanie Schriock who had the most optimistic spin on 2012. She cited stats showing that more women are seeking office now, shifting the conversation to how we can ensure that they achieve it. Fluke, however, believes that young women are being steered more toward staffer positions on Capitol Hill ahead of the top jobs themselves. In fact, it was Fluke who received the loudest applause of the night after she acknowledged the barriers and obstacles that may hold women back from public office. Fluke suggests that women who get into office work on improving policies to make it easier for the next generation of women to both work and take care of their families.
At the end, Clinton wrapped things up by reaffirming that conversations like this one should be seen as the beginning. Each of these women will undoubtedly continue to share her thoughts and send these positive messages to young men and women. And from the way the audience cheered throughout the night, it's clear that they too will take these lessons home.
What They Said
"[Sandra] and I actually have something in common: We've both been attacked by Rush Limbaugh."
– Chelsea Clinton has a sense of humor about her opponents
"Men wake up wanting to be president. Women need to be asked."
– Stephanie Schriock wants to see more women dreaming of the White House
"I'd vote for any of you."
– Nicolle Wallace urges more women to throw their hats into the ring
"It's not ever going to be perfect and part of the challenge is accepting that."
– Christine Quinn says you have to make tough choices

What We Thought
Clinton was dealt a big hand full of smart and strong women. Not enough time would have been enough to have everyone chime in about everything they wished to. That being said, Clinton did her best to steer the conversation to cover as much as possible. She shared a lot about her own feelings and experiences early on, but took a backseat to the panel as the event ran on.
Huntsman Livingston and Wallace were the only ones who cited media as a potential problem for how women are portrayed. It was nice to see such different women agree on a point that is so central to the debate.
A couple of questions from the audience were weaved into conversation, a tactic we liked from Clinton. As a result, there's no place for us to scrutinize them. A job well done.
(Image courtesy of Joyce Culver, 92Y)
Have a tip we should know? tips@mediaite.com