NFL Rejects Super Bowl Ad From Veterans Advocacy Group Urging People to Stand for Anthem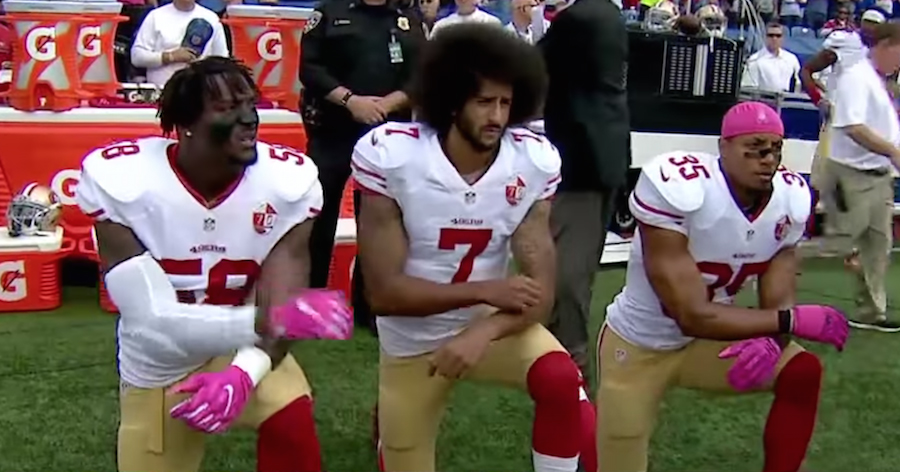 This has been a firestorm of a year for the NFL, thanks to players kneeling during the National Anthem to protest racial and social injustice. President Donald Trump has weighed in on multiple occasions, decrying the players for ruining the sanctity of football. Vice President Mike Pence staged a bizarre photo-op on the taxpayer's dime. Heck, even poor "Papa" John Schnatter got demoted after he blamed the protests for flagging sales of his mostly edible pizza.
The controversy is not going anywhere anytime soon. The Super Bowl will take place on February 4. And according to multiple reports, the NFL has rejected an advertisement for the big game urging all Americans to stand for the National Anthem, on the grounds that the ad is too political.
The print advertisement, produced by a pro-veteran advocacy organization called AMVETS, simply says #PleaseStand and then asks for a $20 donation to help those that have served in the military.
The NFL has released a statement on the matter, explaining their reasoning behind the decision.
"The Super Bowl program is designed for fans to commemorate and celebrate the game, players, teams, and the Super Bowl. It has never been a place for advertising that could be considered by some as a political statement," NFL Vice President of Communications Brian McCarthy wrote, also noting that veterans will be honored during many "on-field moments that will be televised as part of the game."
AMVETS National Commander Marion Polk has called the move "reprehensible," also saying "freedom of speech works both ways."
Super Bowl fans can expect to see players taking a knee during the anthem, should any decide to do so. NBC executive Fred Gaudelli has stated that the network does not plan to shy away from showing protests of any kind during the game.
[image via screenshot]
—
Follow Lawrence Bonk (@sidescrollers) on Twitter
Have a tip we should know? tips@mediaite.com