'No Budget No Pay': House Votes To Hold Its Own Salaries If Budget Isn't Passed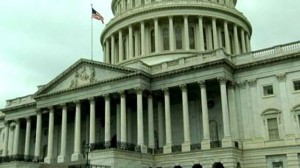 Much has been made in the past few years of Congress' seeming inability to pass a federal budget. Even members of Congress are starting to get tired of it. And since no problem brought before our legislature can't be solved without finding a way to incentivize it, today the House passed a bill referred to as "No Budget No Pay," meaning that if both the House and Senate do not approve a budget for the coming fiscal year by April 15, no representative of either body will receive their pay.
RELATED: GOP Congressman Explains House Plan To Cut Off Lawmakers' Paychecks If Congress Can't Pass A Budget
The bill also pushed back the impending debt ceiling crisis for the next few months An important point to highlight is that even under the legislation, members of Congress could still get paid if they don't pass a budget. How is this possible?
The bill, known as the No Budget No Pay Act of 2013, directs both chambers of Congress to adopt a budget resolution for fiscal year 2014 by April 15, 2013. If either body fails to pass a budget, members of that body would have their paychecks put into an escrow account starting on April 16 until that body adopts a budget. Any pay that is withheld would eventually be released at the end of the current Congress even if a budget doesn't ever pass.
This is mainly a consequence of the 27th Amendment, which states that no law affecting the salaries for members of Congress can be put fully into effect until the next term, starting in January 2015. House Democrats spoke out against the bill, dismissing it as a "gimmick," a word also used by Senate Majority Leader Harry Reid. But gimmick aside, Reid welcomed the bill's passage in the House and predicted an easy passage in the Senate, commenting that "no budget no pay" was likely done to convince the more conservative members of the House to back it.
The bill has its share of supporters and detractors. CNN contributor John Avlon wrote today that the bill is a "no-brainer," marveling that members of Congress would oppose "personal accountability for institutional dysfunction." However, Business Insider's Walter Hickey dismissed it as a "farce" and highlighted one of the more ridiculous provisions of the bill.
According to subsection (b) of section 2 of the bill, nonvoting delegates and resident commissioners will be subject to the same rules.

So despite the fact that the delegates can't actually vote on a budget, they still will not be paid.
h/t ABC News
Have a tip we should know? tips@mediaite.com
Josh Feldman - Senior Editor