No, Sarah Palin, White House Press Corps Did Not Condone Helen Thomas' Comments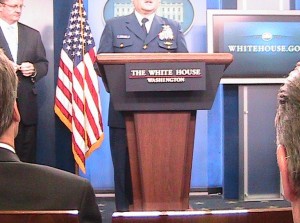 Hearst Newspapers columnist and trailblazing White House correspondent Helen Thomas has retired today, a swift conclusion to a story that only broke on Friday, quick even by the standards of today's microscopic news cycle. Along the way, former Alaska Governor Sarah Palin tried to leech onto the story by tweeting that Helen's "press pals condone racist rant," referencing comments Helen made at the White House on May 27th.
I was in the White House briefing room today, and I can tell you that Palin's tweet couldn't be further from the truth.
That doesn't appear to matter much to Palin, since she sent her tweet Saturday night, when the bulk of the White House press corps had probably not even heard the remarks yet, much less "condoned" them.
In fact, I was surprised by the strength of the reactions from White House reporters, considering how well-liked Helen is. This was before she announced her retirement, and while most agreed that Ari Fleischer's suggestion that she be fired was excessive, not a word was spoken in defense, or mitigation of, her remarks. There were many who agreed with Joe Klein's prescription, that Helen be removed from her front row center seat, and a few remarked that her apology was weak.
Personally, I am greatly saddened by this turn of events. Helen Thomas is someone I have admired for years, and for whom I developed great affection over the past year-and-a-half. As Dave Weigel points out, you didn't need to be a cryptographer to decipher Helen's point of view on the Middle East, but nothing prepared me for what she said in that now-infamous video clip. She has never said anything remotely similar, either to me or in my presence.
I wish I had gotten to see Helen this morning. She was always willing to talk, and always had someone around who wanted to talk to her.  I'm not sure what I would have asked her, but as it stands now, I'll probably never see her again. As that realization sinks in, it's hard for me to think about much else.
Helen was a tough questioner, someone who set an example for the Bush-era press corps, many of whom now admit to giving W a years-long pass after 9/11. She was a trailblazer, as the WHCA said in their statement, "shatter(ing) many glass ceilings, including serving as the first female president of the White House Correspondents' Association." And to me, she was a generous, patient colleague. I can't think of a worse punctuation mark to end Helen Thomas' career.
Have a tip we should know? tips@mediaite.com